Luke Perry, '90210' and 'Riverdale' star, remembered by celebrities as TV icon and 'kind person'
Hollywood is mourning the huge loss of a television icon on Monday. Luke Perry, who kickstarted his career as Dylan McKay on "Beverly Hills, 90210" and was recently known as Archie Andrews' father Fred on the hit teen drama "Riverdale," has died at the age of 52, Fox News has learned.
The popular '90s TV star was hospitalized last week after suffering a "massive" stroke at his California home.
"He was surrounded by his children Jack and Sophie, fiancé Wendy Madison Bauer, ex-wife Minnie Sharp, mother Ann Bennett, step-father Steve Bennett, brother Tom Perry, sister Amy Coder, and other close family and friends," a rep for Perry told Fox News. "The family appreciates the outpouring of support and prayers that have been extended to Luke from around the world, and respectfully request privacy in this time of great mourning. No further details will be released at this time."
LUKE PERRY, STAR OF 'BEVERLY HILLS, 90210' AND 'RIVERDALE' DEAD AT 52
The 52-year-old was remembered as a childhood staple and an overall kind-hearted person — personally and professionally.
"I'm going to be linked with [Dylan McKay] until I die, but that's actually just fine. I created Dylan McKay. He's mine," Perry previously said about his breakout role, according to The Hollywood Reporter.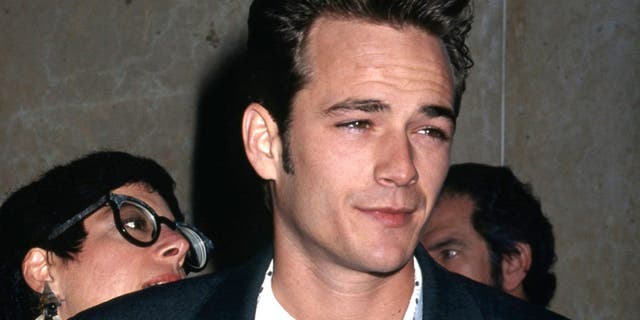 The writers behind "Riverdale" said Perry's profound impact on the cast and staff would never be forgotten.
"Luke Perry... you were a joyful and vibrant soul. You will be missed but most certainly your legacy will be remembered forever. Rest in love and peace, friend. #Riverdale," an official Twitter account for the "Riverdale Writers Room" posted.
His "90210" co-star Gabrielle Carteris told Fox News, "I am absolutely heartbroken. Luke was a tremendous force in the lives of so many. He was a very sensitive soul who was kind, generous and he fought for the underdog. He was a strong voice and an advocate who will be so missed by all who knew him. He has left his mark – never to be forgotten. My heart goes out to his family, friends and fans around the globe."
Molly Ringwald, who guest-stars on "Riverdale" as Archie's mother, Mary, was speechless by the news.
"My heart is broken. I will miss you so much Luke Perry. Sending all my love to your family. #LukePerry," Ringwald commented.
Ian Ziering, who portrayed Steve Sanders on "90210," mourned the loss of his castmate in a lengthy Instagram post Monday.
"Dearest Luke, I will forever bask in the loving memories we've shared over the last thirty years. May your journey forward be enriched by the magnificent souls who have passed before you, just like you have done here for those you leave behind. God please give him a seat close to to you, he deserves it," the actor wrote.
Dean Cain, who was a guest character on "90210" called Rick, shared a broken heart emoji on Twitter after learning about Perry's death.
Actor Josh Gad, known for voicing Olaf in the hit children's movie "Frozen," called Perry's death "absolutely heartbreaking."
William Shatner gave his condolences to Perry's family.
"The Big Bang Theory" star Mayim Bialik simply wrote "RIP," along with a throwback image of Perry.
Felicia Day, the creator of the original web series "The Guild," was devastated to hear about Perry's death Monday.
"I'm so sad about Luke Perry he was such a kind person. Enthusiastic and encouraging to everyone around him. <3 #RIP," the star tweeted.
Professional wrestler Joey Ryan posted a throwback photo of his pal Perry.
"Terrible news today. Not only was 90210 a staple of my youth but Luke Perry was a stellar human being and incredibly supportive father who I got to talk to on multiple occasions when he'd come watch his son wrestle. My heart breaks for @boy_myth_legend today," Ryan wrote.
WWE star Zack Ryder echoed Ryan, agreeing that "90210" was one of his favorite TV shows.
'90210' ACTOR LUKE PERRY OPENS UP ABOUT PAST CANCER SCARE
"I always hoped to be as cool as Dylan McKay. I copied his answering machine and his sideburns. My wrestling name was almost Zack McKay...but I thought it was too obvious that I was combining Zack Morris & Dylan McKay," said Ryder, sharing a photo of himself posing with Perry.
His "Riverdale" and "90210" co-stars had previously posted tributes to their friend after learning about his recent health complications.
"Love you my brother," Casey Cott, who plays Kevin Keller on the hit CW show, posted on Instagram.
Lili Reinhart, best known as Betty Cooper, also said she was praying for Perry at the time, sharing a photo of the pair from the "Riverdale" set.
Cole Sprouse, who stars as Jughead Jones, posted a candid of Perry.
Shannen Doherty, who played Perry's onscreen partner Brenda Walsh on "90210," posted a throwback from the show several days ago.
This is a developing story. Check back here for updates.
Fox News Sasha Savitsky contributed to this report.