Lady Gaga and Bradley Cooper's top moments, from steamy Oscars performance to 'A Star Is Born' audition
Lady Gaga and Bradley Cooper's chemistry is undeniable. In fact, their performance of their hit song "Shallow" from "A Star Is Born" at the Oscars was so steamy it left fans questioning whether there was potential the pair could be more than friends — a rumor the famous duo has frequently laughed off.
While there may not be a romance brewing, the costars are clearly quite fond of one another.
"From the moment we met, I felt a kindred spirit in him," Lady Gaga has gushed to TIME.
LADY GAGA, BRADLEY COOPER'S STEAMY OSCARS PERFORMANCE GETS REACTION FROM ACTOR'S EX-WIFE JENNIFER ESPOSITO
And Cooper can't stop singing Lady Gaga's praises, both as a singer and an actress. He also admitted there was an instant connection, which made him feel comfortable enough to reveal his voice to the fifth highest-paid female singer in 2018, according to Forbes.
"She entrusted me with giving herself so she could reveal herself to be the actress that she is ... and I entrusted her that I would be able to become the musician that I was terrified to be," Cooper explained to TIME.
Here's a look at some highlights from one of Hollywood's most beloved friendships.
First sight
Cooper revealed he didn't meet Lady Gaga until 2016 but he did come close to meeting her before then.
"I never met her before. We had passed each other .. I was doing ["Weekend Update: Get in the Cage"] on "Saturday Night Live" and she was the musical guest," Cooper told Conan O'Brien in September 2018, adding they were like "five feet from each other" years ago.
The audition
Lady Gaga first caught Cooper's eye at a cancer benefit in Los Angeles, where she performed "La Vie en Rose." Cooper, who co-wrote and directed the remake of the 1937 film "A Star Is Born" instantly thought about "Ally," his love interest in the movie.
After the event, Cooper made a call to Lady Gaga's agent inquiring about an impromptu audition for the part and the singer agreed, according to W Magazine.
"The second that I saw him I was like, 'Have I known you my whole life?' It was an instant connection, instant understanding of one another."
"The second that I saw him I was like, 'Have I known you my whole life?' It was an instant connection, instant understanding of one another," she told Vogue in September 2018.
Lady Gaga then led Cooper to her piano and, for the first time, the two sang together. After hearing Lady Gaga sing, Cooper was convinced she was the ideal female lead and he let her know it.
LADY GAGA UNRECOGNIZABLE IN 'A STAR IS BORN' TRAILER WITH BRADLEY COOPER
Afterward, Lady Gaga offered to make Cooper spaghetti and meatballs — like a true Italian, the singer has joked in the past.
No doubts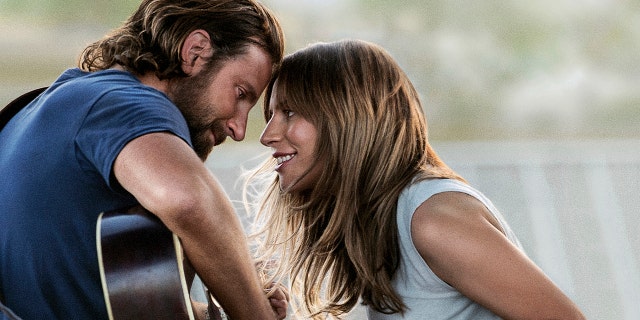 In November 2018, Cooper told Fox News that he had no doubt Lady Gaga would give a "brilliant" performance.
We had to fight to get this movie made and so I felt early on that she was ready to put the work in to be great and to give an incredible performance," Cooper told Fox News.
"When I decided that I wanted to do the film, we hadn't created Ally and created Jack, and really you go on an instinct — and then you hope that the work ethic is there so that you can see that instinct come to life and fruition and it can grow. She did all those things," he added.
Golden Globes
An emotional Lady Gaga graciously accepted her second Golden Globe for best original song in January for co-writing "Shallow."
The actress later took to Instagram to extend thanks to her costar.
"I didn't get to say everything I wanted to say last night when we won, I was so overcome with emotion and of course wanted to share the mic with my co-writers. We are all so grateful Bradley loved "Shallow," sang his heart out live, and truly the song would not be revered as it is without the brilliant film and moment Bradley created and the way he directed the moment and collaborated with us on how it would eventually be given to the world. Thank you B, and thank you Warner Bros. Thank you HFPA, we are beyond grateful," she captioned the post.
Oscars night
Lady Gaga and Cooper entered the stage at the 2019 Oscars to perform their popular (now Academy Award-winning) song "Shallow" wearing the outfits they arrived in.
The audience was glued to the pair as Cooper kicked off the song and eventually made his way to Lady Gaga, who was seated at the piano. They closed out the song with intense eye contact and a soft smile as the crowd roared with applause.
LADY GAGA RESPONDS TO BRADLEY COOPER'S BEST DIRECTOR OSCAR SNUB
"Cooper and Gaga's connection was so strong, at the end of their performance their mouths were a couple of breaths away from a kiss," W Magazine described the scene.
They received a standing ovation and hugged before exiting the stage. As they made their way to their seats, they were reportedly given another standing ovation.
Fox News' Jessica Sager and Julius Young contributed to this report.