Kim Zolciak's family too rowdy for fellow beach-goer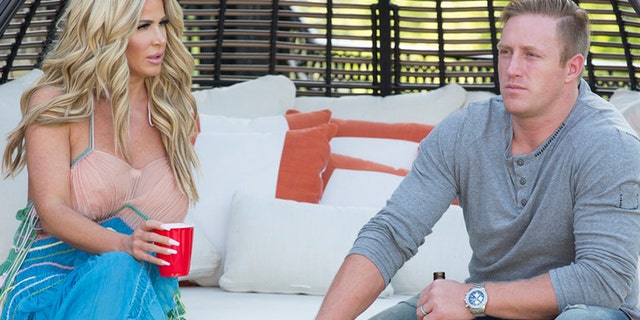 Don't mess with Kim Zolciak and her family when they're on vacation.
The "Don't Be Tardy" personality took to Snapchat on Sunday, where she detailed a verbal spat with a fellow beach-goer who criticized the Biermanns' behavior as they vacationed in Turks and Caicos.
"This lady on the beach came up to me and said, 'Could you keep you and your kids quiet? It's been a very quiet peaceful beach.' B---h, what? They're 4 and 5," the 38-year-old reality star explained via Entertainment Tonight. "We've been nothing but respectful. I told her, 'Well, why are you always sitting next to me? Move your f--king chair to the other end of the beach.'"
"I said, 'That's ok, b---h, because we're leaving.' She's like, 'I'm not asking you to leave.' I honestly told her, 'You might want to f–king loosen up, lady.' I said, 'This is a beach that a lot of people pay a lot of money to stay here and enjoy the beach and if you don't like it, f–king go somewhere else. It's life,'" she continued.
While Zociack's eldest daughter, Brielle Biermann, 19, could be overheard in a video shouting "--k her," the former "Real Housewives of Atlanta" star took a final swipe at her hater with a shot of her backside.
"And to the lady that said to keep it down she would like it to remain quiet on the beach … kiss it where the sun is shining, and loosen up and live a little,'" Zolciak posted on Instagram.
Despite the drama, it appears the Biermann bunched enjoyed their tropical getaway.
"Thankful for this last week! Romantic and restful," Zolciak gushed of husband Kroy Biermann. "I love him to the moon and back! When he hurts I hurt, when he's happy I'm happy! He doesn't even have to speak and I feel him!"
This article originally appeared in Page Six.