Kate Upton, Justin Verlander announce birth of baby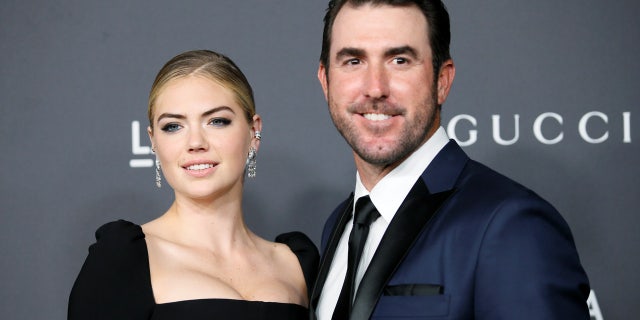 It's official: Supermodel Kate Upton and Houston Astros pitcher Justin Verlander are parents.
The couple announced Saturday via Instagram that Upton had given birth to a baby daughter, whose name is Genevieve Upton Verlander.
"Welcome to the world Genevieve Upton Verlander. You stole my (heart) the first second I met you!!!" the proud father wrote, adding Wednesday's date to the message – suggesting that the child was born three days before the announcement.
The accompanying photo shows the hands of the new parents holding the tiny left hand of their new family member.
The new mom also posted to Instagram, with a photo of part of the baby's face and her left hand.
Upton, 26, and Verlander, 35, announced in July that they were expecting a child. Verlander wrote on Instagram at the time: "You're going to be the most amazing Mom!! I can't wait to start this new journey with you! You're the most thoughtful, loving, caring, and strong woman I've ever met! I'm so proud that our little one is going to be raised in this world by a woman like you! I love you so much."
The couple, who began dating in 2014, were married in Tuscany, Italy, last November.
Upton is best known for several appearances in Sports Illustrated magazine's annual swimsuit issue, and for movie and television roles.
She drew attention from baseball fans during this year's American League Championship Series between the Astros and Boston Red Sox when she commented online about a fan-interference play. The Red Sox went on to defeat her husband's team and deny it of a World Series repeat.
Right-handed starting pitcher Verlander is best known for leading the Astros to the team's first World Series title in 2017, and for winning the American League's MVP and Cy Young Awards in 2011, while a member of the Detroit Tigers.
The couple live in Florida during baseball's off-season, but it was unclear Saturday exactly where their new daughter was born.