Jason Aldean, wife Brittany Kerr reveal daughter's name at baby shower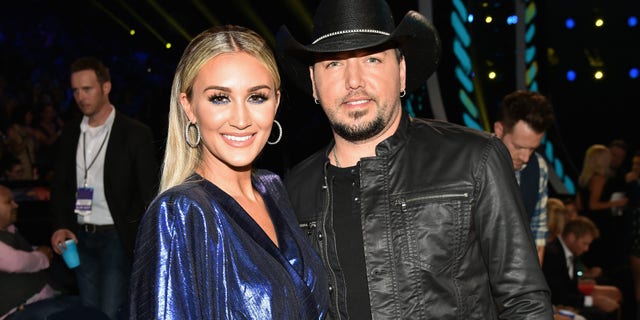 Jason Aldean and Brittany Kerr already have a name for their daughter on the way.
The country star and his wife threw a baby shower on Sunday and revealed they will be naming their child Navy. The couple announced in August they were expecting their second child together. Aldean, 41, and Kerr, 30, welcomed son Memphis on Dec. 1, 2017.
Aldean has two daughters from a previous marriage.
JASON ALDEAN AND WIFE BRITTANY EXPECTING BABY NO. 2
"Today we celebrate you, baby girl," Kerr posted on Instagram Sunday with a photo of a neon sign that read "Navy."
Back in April, Kerr opened up about their struggle to conceive prior to welcoming their son.
"It was the longest process," Kerr said of going through IVF, according to People. "It was such a roller coaster and I ended up, through it all, having endometriosis. After a year and a half of trying, they're finally like, 'We think you might have endometriosis.' I'm like, 'Uh … after all that, are you kidding me?'"
Endometriosis is a disorder in which tissue that normally lines the uterus grows elsewhere and can cause pain or infertility, according to the Centers for Disease Control and Prevention.
She continued, "The IVF was probably harder than the actual pregnancy, for me, because it was just such a roller coaster and so difficult. It's such high highs and such low lows, and no one really knows that you're going through it all, so you have to just put on a game face and pretend that you're not giving yourself shots in your stomach every day, all day."
Fox News' Sasha Savitsky contributed to this report.