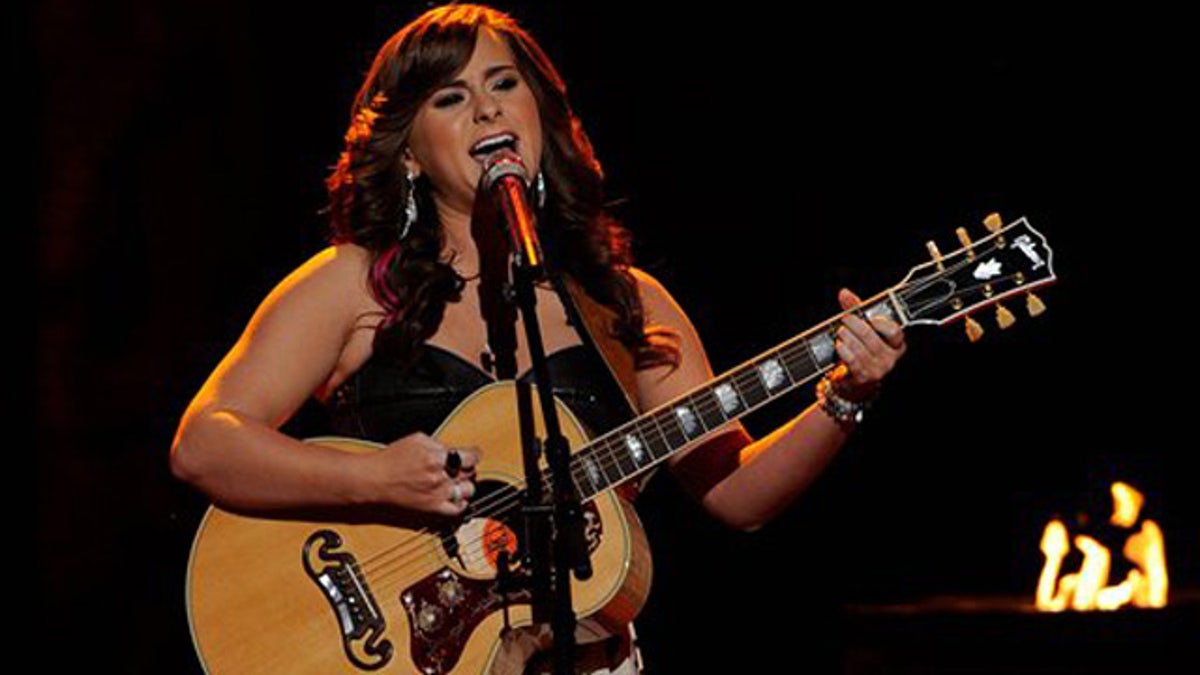 LOS ANGELES – Freddy Mercury may have sang the praises of "Fat-Bottomed Girls," but big girls got no love on "American Idol" Wednesday night.
Steven Tyler called out fellow judge Jennifer Lopez for her, um, ample assets following Phillip Phillips' performance of Queen's 1978 hit.
"The bigger the cushion... the bigger the cushion," Tyler said while staring squarely at Lopez.
"Why are you looking at me," demanded Lopez.
"Honey, don't you start with me now," retorted Tyler.
Tyler wasn't the only one handing out critiques to the curvy. Hollie Cavanagh described fellow contestant Skylar Laine as being "thick-boned."
"She's–what is it, like, thick-boned? Is that what you say," explained Cavanagh during a backstage interview. "Thick, strong-boned, I guess."
When told of Cavanagh's comments, Laine cried, "She called me thick-boned?! Hollie, you called me FAT?"
Cavanagh later backpedaled, explaining that she really meant "thick-skinned." Laine, however, was still hurt by the comments. "Hollie, I'm going to go cry–you called me fat."
Laine–whether thick-boned or thick-skinned–rocked Queen's "The Show Must Go On" to earn high praise from the judges.
Tyler called her "fabulous," Lopez got her "goosies," calling Laine's performance "powerful," while judge Randy Jackson declared it "phenomenal," calling it one of her "best performances to date."
Later in the show, Laine performed "Tattoos On This Town," which also earned kudos from the judges.
Meanwhile, Cavanagh failed to impress the judges with her take on Queen's 1980 hit, "Save Me."
"I just feel like I wanted to see you enjoy it more," said Lopez. "I want to see you smile for real."
Cavanagh redeemed herself with her second song of the night, "The Climb."
"That's the Cavanagh that we love," said Jackson. "That was beautiful."
Phillip Phillips' aforementioned "Fat-Bottomed Girls" earned a lukewarm response from the judges.
"If I'm really being honest, I liked it," said Jackson. "Did I love it? Was I jumping up and down? No."
Often compared with Dave Matthews, Phillips performed one of his hits, "The Stone," with slightly better results.
"Very entertaining, very off-the-wall," said Tyler. "Typical Phillip Phillips."
Lopez called the song "little bit obscure and a little bit too artsy," warning, "I get a little bit scared when you do stuff like that."
Joshua Ledet brought the house down with his performance of Queen's "Crazy Little Thing Called Love," and earned a second standing ovation from the judges by singing "Ready for Love" by India.Arie.
"I don't even know what to say anymore," said Jackson. "Another unbelievable performance."
Rocker Elise Testone proved her mettle singing Queen's "I Want It All" and Jimi Hendrix's "Bold As Love."
"You slayed that song so hard," praised Lopez of Testone's update of Hendrix's 1967 song. "You're one of the best singers in the competition."
Teeny-tiny Jessica Sanchez held her own singing Queen's "Bohemian Rhapsody," with Tyler telling her, "I think Freddie Mercury would have been proud to hear that."
But Sanchez truly blew away the judges with her second song choice, Luther Vandross' "Dance With My Father," which she dedicated to her own father, who will soon be deployed overseas.
"That may have been the best I've ever heard that song sung," said Lopez.
"You know what's wrong with it," asked Jackson. "Absolutely nothing."
Up next: One of the contestants WILL be eliminated.