'Idol' recap: Another singer bites the dust as judge Steven Tyler turns 64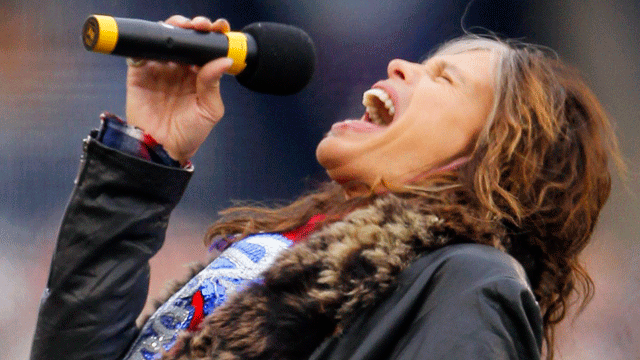 HeeJun Han escaped elimination from the "American Idol" live results show on Thursday night, but just barely.
"His performance was more like four minutes of a bad Adam Sandler movie that goes straight to DVD," mentor Jimmy Iovine said of Han's goofy interpretation of Billy Joel's "My Life." "At the end of the day, Interscope has to spend a lot of money on somebody who wins this show – and that's not it."
"American Idol" voters seemed to agree. Han landed in the bottom three with DeAndre Brackensick, who was criticized by Iovine for his overly-peppy interpretation of Joel's "Only the Good Die Young" and Erika Van Pelt, who despite allegedly being a member of Red Sox Nation, delivered a strong performance of Joel's "New York State of Mind."
Brackensick was spared from elimination, as was Han.
Instead, one of the few "American Idol" hopefuls who actually followed "image consultant" Tommy Hilfiger's advice was sent home–possibly due to her radical new makeover.
Before Wednesday night's show, Van Pelt ditched her long blonde hair for a jet black pixie cut–something Hilfiger confidently suggested would win her votes.
Whoops.
After learning the results, Van Pelt had a chance to stay in the competition if she convinced the judges to use their once-a-season "save" on her. Van Pelt belted out an impassioned version of the late Whitney Houston's "I Believe in You and Me," but her performance wasn't enough to win over the judges.
"Unfortunately, Ryan, uh, no, sorry," an unremorseful judge Randy Jackson told host Ryan Seacrest of the judges' decision. With that, Van Pelt was sent home with her short 'n' sassy new 'do–and possibly to the wrath of Rhode Island Red Sox fans.
The remaining nine contestants get to move into the "American Idol" Hollywood Hills mansion–which Seacrest assures is a "cool" mansion, but then again, "all mansions are cool."
It wasn't all elimination drama on Thursday night–there was also a reason to celebrate.
"We couldn't get past tonight without acknowledging somebody's birthday," Seacrest teased judge Steven Tyler, who turns 64 on March 26. Seacrest then surprised Tyler with Aerosmith guitarist Joe Perry, who rocked out a version of "Happy Birthday" with the Top Ten "American Idol" finalists.
Perry, who had previously had not been especially enthusiastic about Tyler's participation in "American Idol," seems to have had a change of heart.
"I couldn't decide what to get you for your birthday this year so I guess this will have to do," Perry told Tyler, whose eyes teared up with emotion, was clearly moved by the gesture.
Meanwhile, "sadcore" chanteuse Lana Del Ray performed her hit "Video Games," looking slightly less awkward than her much-maligned performance of the same song on "Saturday Night Live" back in January. Unfortunately, there was no critique of Del Ray from the judges.
Up next: The Top Nine finalists sing songs from their own idols, plus Nicky Minaj and Season 10 winner Scotty McCreery perform on the results show.