Hollywood stars, executives sign petition in support of Israel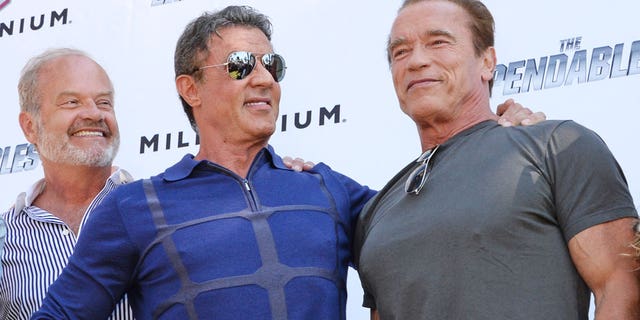 The pro-Israel activist group Creative Community for Peace has released a list with the names of nearly 200 Hollywood elite, including Seth Rogen, Amy Pascal, Arnold Schwarzenegger and Aaron Sorkin, who signed a statement criticizing Hamas.
The prominent figures who lent their names to the document range from actors Kelsey Grammer and Sylvester Stallone to execs Ryan Kavaunagh and Sherry Lansing. The group collectively stands firm against Hamas' "ideologies of hatred and genocide."
The document states that "Hamas cannot be allowed to rain rockets on Israeli cities, nor can it be allowed to hold its own people hostage. Hospitals are for healing, not for hiding weapons. Schools are for learning, not for launching missiles. Children are our hope, not our human shields."
Actors Sarah Silverman, Minnie Driver, Mayim Bialik, Josh Charles, Tony Goldwyn and Roseanne Barr, TV host Bill Maher, directors Ivan Reitman and William Friedkin, showrunners Diane English and Doug Ellin, and producers Avi Arad and Scooter Braun are among the signers.
The campaign was spearheaded by showbiz lawyers Fred Toczek and Patti Felker, and the statement was circulated by Creative Community for Peace director Lana Melman on Saturday.
This statement follows pro-Israel op-eds from Jon Voight and Kavanaugh, as well as a pro-Palestinian open letter from Javier Bardem and Penelope Cruz.
Here's the full statement: