Hayden Panettiere makes first public appearance following postpartum depression treatment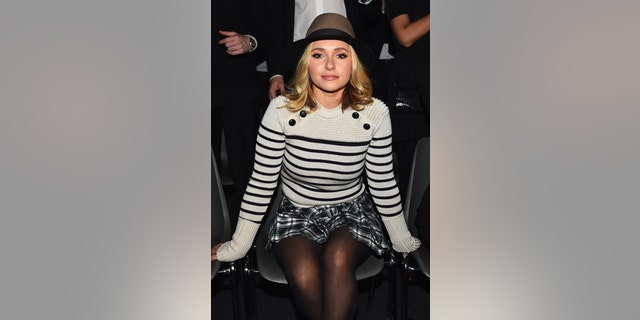 Hayden Panettiere is looking happier and healthier than ever.
The "Nashville" actress made her first public appearance on Saturday since seeking treatment for postpartum depression in October to cheer on fiancé Wladimir Klitschko during the IBF IBO WBO World Heavyweight Championship Fight in Germany.
Sporting a cozy striped sweater, a plaid skirt and a chocolate-brown fedora, Panettiere, 26, flashed a playful grin for the cameras as she watched Klitchsko, 39, from the front row. And while the Olympic medalist suffered his first defeat in 11 years, his lady love's well-being is of greater importance.
After welcoming daughter Kaya last December, Panettiere spoke of her struggle with postpartum depression during an appearance on "Live with Kelly and Michael" in September.
"When [you're told] about postpartum depression, you think it's 'I feel negative feelings towards my child, I want to injure or hurt my child' — I've never, ever had those feelings. Some women do. But you don't realize how broad of a spectrum you can really experience that on," she said. "It's something that needs to be talked about. Women need to know that they're not alone, and that it does heal."
"There's a lot of misunderstanding — there's a lot of people out there that think it's not real, that's it not true, that it's something that's made up in their minds, that 'Oh, it's hormones,'" Panettiere continued. "They brush it off. It's something that's completely uncontrollable. It's really painful and it's really scary and women need a lot of support."
Panettiere also took a leave of absence from her ABC series, though it's unclear when she is expected to return.
This article originally appeared in the New York Post's Page Six.