Harvey Weinstein's sexual misconduct allegations: A timeline of events
Harvey Weinstein's sexual assault trial began in New York on Jan. 6, 2020.
The disgraced movie mogul turned himself in to the New York City Police Department in May 2018 -- nearly eight months after an explosive exposé sparked a cataclysm of women who have publicly accused the disgraced movie mogul of sexual assault, harassment and rape.
He was charged with rape, criminal sex acts, sex abuse and sexual misconduct on two women by the NYPD on May 25, 2018. However, he's been accused by dozens of women since late 2017 of harassment, sexual assault and rape.
Weinstein, 66, has repeatedly denied all allegations of non-consensual sex.
Here's a look back at when Weinstein was first accused and what's happened to his life since.
The allegations start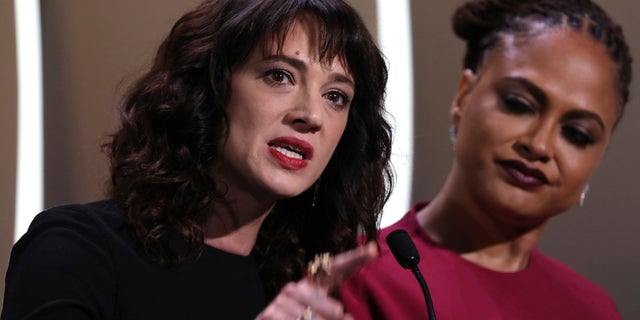 On Oct. 5, 2017, The New York Times reported that Weinstein had reached at least eight settlements with women -- including actresses, assistants and models -- who accused him of sexual harassment and misconduct.
According to The New York Times, Weinstein was supposed to have a business meeting with Ashley Judd, but when she showed up, he was in a bathrobe and asked her to give him a massage, she said. On another occasion, a female assistant was pressured into giving Weinstein a massage which left her "crying and very distraught," colleague Lauren O'Connor said in a memo obtained by The Times.
After that initial report, the list of women who accused Weinstein of sexual misconduct and rape grew; it included actresses Gwyneth Paltrow, Angelina Jolie and Rosanna Arquette, to name a few.
HARVEY WEINSTEIN SEX SCANDALS: DETAILING THE ALLEGATIONS
Lucia Evans, an aspiring actress when she met Weinstein, told The New Yorker's Ronan Farrow when she first met the famed movie mogul, he belittled her and commented on her weight. Eventually, though, "he assaulted me," she claimed, alleging that Weinstein forced her to perform oral sex on him.
"I said, over and over, 'I don't want to do this, stop, don't,'" she told The New Yorker. "I tried to get away, but maybe I didn't try hard enough. I didn't want to kick him or fight him."
"I just sort of gave up," she continued. "That's the most horrible part of it, and that's why he's been able to do this for so long to so many women: people give up, and then they feel like it's their fault."
Italian actress Asia Argento also accused Weinstein of assault, saying he forcibly performed oral sex on her when she was 21 years old. She described the encounter as a "nightmare" and said she was afraid he would "crush her" if she had reported him.
The fallout begins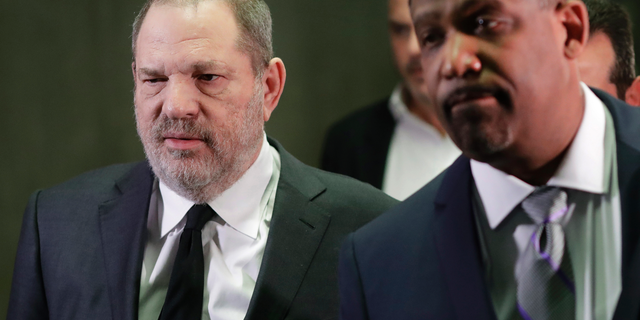 A month after the accusations began, The New Yorker reported that Weinstein hired private security in an attempt to silence the women coming forward. But even still, the fallout from the allegations was swift.
Shortly after the stories came to light, Weinstein's wife, Georgina Chapman, announced she was leaving him. The couple had been married for 10 years.
Less than 10 days after The New York Times report, Weinstein was expelled from the Academy of Motion Picture Arts & Sciences. The board of the Academy said "well in excess of the required two-thirds majority" of the 54 member organization voted to remove Weinstein. He was also kicked out of the Producers Guild of America.
HARVEY WEINSTEIN ASKS JUDGE TO TOSS ASHLEY JUDD'S SEXUAL HARASSMENT, DEFAMATION LAWSUIT
Harvard University rescinded the W.E.B. Du Bois medal it awarded to Weinstein in 2014. The medal, according to the Harvard Crimson is the highest honor one could receive from the university for contributions to African and African-American culture.
He was also sacked from The Weinstein Company film studio, which he founded in 2005. The company would file for bankruptcy.
In February, the British Academy Film Awards permanently banned Weinstein.
Weinstein allegedly spent some time at a rehab facility in Arizona that deals with sex addiction issues.
Criminal investigations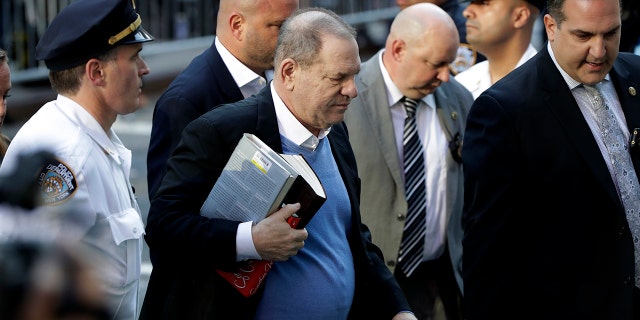 By November 2018, the New York Police Department, Los Angeles Police Department and the Metropolitan Police in the United Kingdom had opened investigations into Weinstein.
Weinstein turned himself over to police on May 25, 2018 and was charged with rape, criminal sex acts, sex abuse and sexual misconduct on two women.
"The NYPD thanks these brave survivors for their courage to come forward and seek justice," the police department said in a statement to Fox News.
On June 5, 2018, Weinstein entered a not guilty plea.
Eric Schneiderman, who was New York's attorney general before he resigned facing his own physical and sexual assault allegations, sued The Weinstein Company in February 2018, accusing officials of being complicit in his alleged abuse and harassment.
HARVEY WEINSTEIN'S CRIMINAL DEFENSE LAWYER, BENJAMIN BRAFMAN, WITHDRAWS FROM CASE
Positive signs for Weinstein?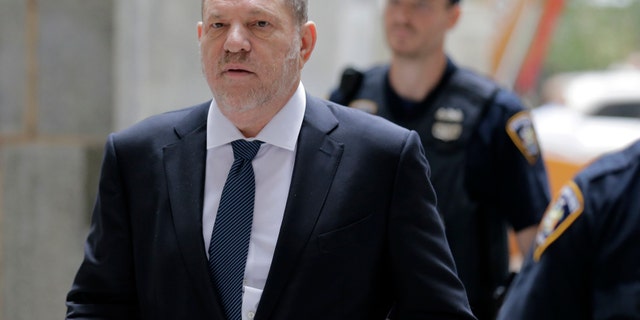 Amidst mounting accusations, Weinstein did exhibit small signs of good luck when several claims against him were dismissed.
In January 2019, part of actress Ashley Judd's claim were dismissed by a California judge.
Judge Philip S. Gutierrez of United States District Court in Los Angeles ruled that the actress' sexual harassment claim did not fall within the scope of a California statute, but he noted that Judd may proceed to trial with separate allegations against Weinstein of defamation and economic interference.
Judd alleged that Weinstein defamed her to "Lord of the Rings" director Peter Jackson after she rejected his sexual advances two decades ago.
Furthermore, actress Lucia Evans had her claims dismissed after she reportedly offered differing accounts of her sexual assault story to a witness and prosecutors, according to BBC.
HARVEY WEINSTEIN ACCUSERS COULD GET LESS THAN $60G EACH IN SETTLEMENT
Weinstein pleads not guilty
In an August 2019 court appearance, Weinstein pleaded not guilty to an indictment that added two new charges of predatory sexual assault to his New York trial.
Prosecutors had said the new indictment was needed to lay the legal foundation for "Sopranos" actress Annabella Sciorra to testify against Weinstein. She claims he raped her in 1993.
The disgraced movie mogul was also admonished by the judge for taking his cell phone out during the proceedings.
After being warned not to do that again, Weinstein said, "Your honor..." before he was cut off by the judge who said, "It's a court order. Don't talk to me. Talk with your lawyers."
HARVEY WEINSTEIN'S LAWYERS AFTER HIM FOR NEARLY $500G
Rose McGowan files lawsuit against Weinstein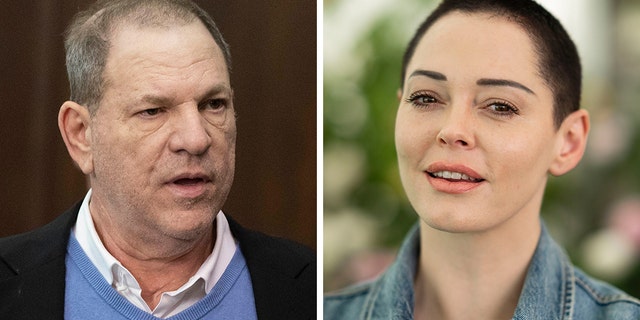 Actress Rose McGowan filed a lawsuit against Weinstein and his ex-attorneys, Lisa Bloom and David Boies, as well as the spy and intelligence firm Black Cube Strategies in October 2019.
The actress alleges that Weinstein and his attorneys conspired to suppress her claims that Weinstein raped her in 1997 while the two were at the Sundance Festival. She contends the former executive did everything in his power to discredit her allegations.
"This case is about a diabolical and illegal effort by one of America's most powerful men and his representatives to silence sexual assault victims," the complaint, obtained by Fox News, states. "And it is about the courageous women and journalists who persisted to reveal the truth."
"Back then — as Weinstein had done with other women he assaulted or otherwise abused — Weinstein paid McGowan money as a settlement and expected her to go away and keep her mouth shut," the 72-page complaint reads.
ROSE McGOWAN WANTS HARVEY WEINSTEIN'S FORMER ADVISOR LISA BLOOM DISBARRED
Former assistants speak out
In a November 2019 interview with BBC, Weinstein's former assistants Rowena Chiu and Zelda Perkins spoke out about the former movie executive's alleged misconduct. Chiu revealed that Weinstein attempted to rape her and, in turn, wore two pairs of tights for protection.
"It at times appeared to be a sort of game where I bought time, and my two pairs of tights bought time," she said in the interview. "There was a sense that I was a slow boiling frog."
Furthermore, Perkins added that she felt guilty for putting Chiu in that position.
"I knew, you know, how Harvey was coercive, because I'd spent three, four years working for him. When Rowena told me the following morning, I mean, I was completely shattered because I never believed that he had it in him to use any form of physical force," she said. "... as far as I was concerned, Rowena was my responsibility because she was working directly for me and I had put her in that room."
HARVEY WEINSTEIN DOCUMENTARY 'UNTOUCHABLE' COMING TO HULU
Massive settlement emerges as bail increases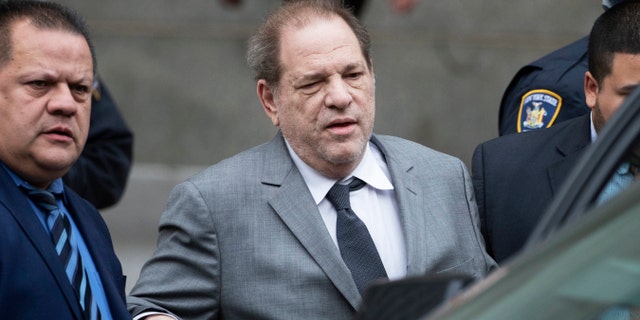 By December 2019, Weinstein reached a tentative $25 million settlement with a number of his alleged sexual misconduct victims, according to The New York Times.
As a part of his big money settlement, Weinstein would not be required to admit any wrongdoing on his part or make any out-of-pocket payments to any of the alleged accusers. The settlement has already gotten proper approval from all major parties involved, lawyers familiar with the case told the Times.
Weinstein's total payout is said to be $47 million, with a large amount covering legal fees.
Around the same time, Weinstein's bail was upped from $1 million to $5 million over allegations that he violated bail conditions through mishandling his electronic ankle monitor. Judge James Burke, however, rejected prosecution calls to put the disgraced movie mogul in jail over the alleged violation.
Weinstein retaliates, blames charges for ruining legacy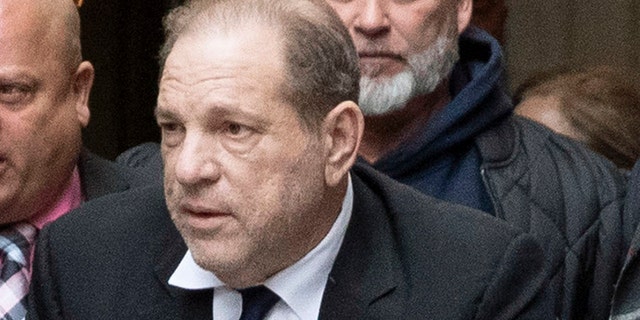 In a December 2019 interview with the New York Post, Weinstein blasted the sexual assault charges brought against him and claimed that he was the first to create female-led films.
"I feel like the forgotten man," the disgraced film producer told the outlet. "I made more movies directed by women and about women than any filmmaker, and I'm talking about 30 years ago. I'm not talking about now when it's vogue. I did it first! I pioneered it."
CLICK HERE TO GET THE FOX NEWS APP
But in the same breath, Weinstein blamed the dozens of sexual misconduct allegations against him as the reason his career has fallen off.
"It all got eviscerated because of what happened," Weinstein lamented. "My work has been forgotten."
The Associated Press contributed to this report.