George A. Romero, creator of 'Night of the Living Dead,' dead at 77
The legendary creator of the "Night of the Living Dead" zombie franchise, George A. Romero, died Sunday at the age of 77, Fox News has confirmed.
Romero died "peacefully" while sleeping after a "brief but aggressive battle with lung cancer," his manager, Chris Roe, said in a statement. The filmmaker was "listening to the score of The Quiet Man, one of his all-time favorite films" with his family by his side, the manager added.
'WALKING DEAD' STUNTMAN DEAD AFTER ON-SET ACCIDENT; PRODUCTION SHUT DOWN
Romero co-wrote and directed "Night of the Living Dead" in 1968, which went on to become a cult classic.
The movie was rare at the time of its release in that it starred an African-American actor in the lead role.
It also set the rules the creators of zombie flick remakes live by: Zombies move slowly, lust for human flesh and can only be killed when show in the head. If a zombie bites a human, the person dies and returns as a zombie.
Famous fans of his work mourned his death on social media. Stephen King called him his favorite collaborator and said, "There will never be another like you." Movie director Guillermo del Toro said, "The loss is so enormous."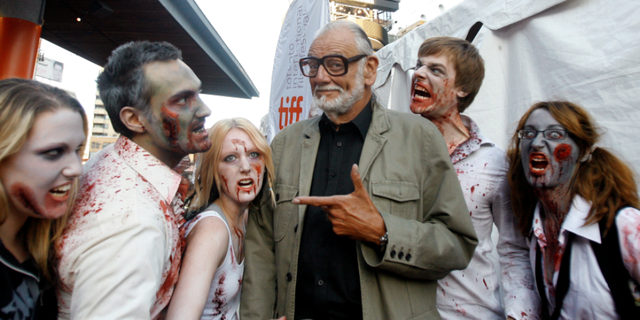 In 1999, the Library of Congress inducted "Night of the Living Dead" into the National Registry of Films.
The film, which was made for about $100,000, sparked the zombie film genre and spurred five sequels as part of Romero's "Dead" film series.
HOW THEY MAKE KILLER ZOMBIES ON 'THE WALKING DEAD'
Romero created "Dawn of the Dead" 10 years later, which film critic Roger Ebert called "one of the best horror films ever made -- and, as an inescapable result, one of the most horrifying. It is gruesome, sickening, disgusting, violent, brutal and appalling. It is also ... brilliantly crafted, funny, droll, and savagely merciless in its satiric view of the American consumer society."
Romero maintained that he wouldn't make horror films if he couldn't fill them with political statements. "People say, 'You're trapped in this genre. You're a horror guy.' I say, 'Wait a minute, I'm able to say exactly what I think,' " Romero told The Associated Press. "I'm able to talk about, comment about, take snapshots of what's going on at the time. I don't feel trapped. I feel this is my way of being able to express myself."
The celebrated filmmaker graduated from Carnegie Mellon University in Pittsburgh in 1960. He learned the movie business working on the sets of movies and "Mister Rogers' Neighborhood."
Romero was born in the Bronx to Cuban and Lithuanian parents. He is survived by his wife Suzanne and two children.
The Associated Press contributed to this report.