'DWTS' recap: Grand finale leaves audience shocked
In a "Dancing with the Stars" shocker, front runner Normani Kordei was beaten by football player Rashad Jennings for the mirror ball trophy on Tuesday night.
And the Fifth Harmony singer didn't even get second place, finishing third, behind former Chicago Cubs baseball player David Ross.
The crowd gasped when Kordei was announced as the third place finisher and that it would be the athletes, "NFL versus MLB," for the "DWTS" season 24 crown.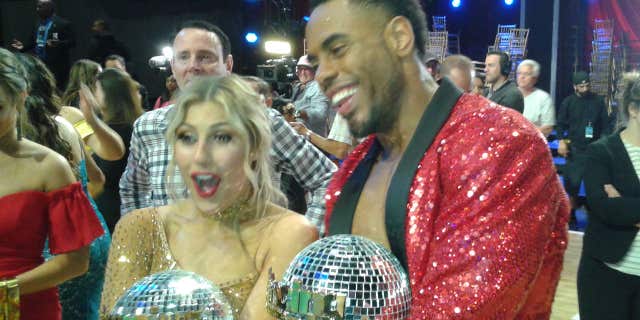 Stunned Judge Len Goodman shook his head as the audience gave Kordei a standing ovation after her surprising third place finish. Kordei was the judges' darling all season.
Still, the pop star -- who was shattered Monday night about the terror attack after her friend Ariana Grande's concert in England -- said on camera she was "incredibly grateful" for her "DWTS" journey with partner Val Chmerkovskiy.
Then, Jennings was announced as the winner over Ross, who was the first ever baseball player on the ABC show.
Backstage afterwards, Jennings, with pro Emma Slater by his side, told FOX411 he was "super shocked! I don't know if [cameras] caught my face or not, but I literally cannot believe it at all. And when I heard them say our names, it was like 'We did it!' It's not something that happens every day."
Jennings said a lot of thoughts were running through his head when he was standing with partner Slater, waiting to hear the results.
"It could be us. It could not be us. I don't know what's about to happen but I had a ball throughout this entire show," he said. Jennings said after the 2 ½ hour show, "That's a very long waiting period right there to wait to see if you won or not."
Jennings said he and Ross had both thought early on that it would be all women in the finale, and were stunned to be the last two stars left standing.
"It's me and him up there, we looked at each other like, completely different from what we thought!"
Jennings stressed that fact that, "There are no losers here at all."
Still, the football star, who is going on the upcoming "DWTS" summer tour with Slater, said he has a spot ready for his mirror ball trophy: "Over the fireplace, there is going to be some light shining on it, it's going to rotate, play every single song in the background."
Second place finisher Ross told reporters after the show he was "shocked and thankful," for his ending with partner Lindsay Arnold. "I felt like I was a winner when they announced I was going to the finals."
"I think the best dancer won, the person who improved the most," Ross said of Jennings.
Now Ross, a "DWTS" fan favorite, plans to go home to his family, "jump in the pool at home with the kids" and also promote his just-released memoir.
Early in the evening, Judge Goodman said season 24 had been full of "twists, turns, shock and surprises" and he couldn't have been more right with a thriller of an ending.