Dick Van Dyke and Mary Tyler Moore reunite at SAG awards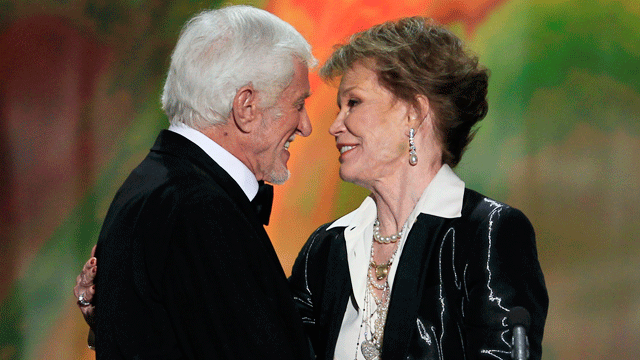 Screen icon Mary Tyler Moore brought the Hollywood crowd to its feet when she was awarded the Life Achievement Award at the 18th Annual Screen Actors Guild (SAG) Awards ceremony on Sunday night.
Dick Van Dyke, her much-loved television husband from the 1960s sitcom "The Dick Van Dyke Show, was on tap to present the award, and also drew a standing ovation as he took the stage, prompting him to quickly remind the audience that he "was just the presenter."
"MTM. There's probably not a person in the civilized world who doesn't know what that means," Van Dyke said, before highlighting the actress's many achievements from an Oscar nomination to dancing to bringing to life Mary Richards on "The Mary Tyler Moore Show."
The charming honoree devoted much of her acceptance speech to detailing how she came up with the stage name "Mary Tyler Moore" – which is actually her real name. But when she first came to Hollywood as an 18-year-old in 1955, she was told to change her name as there was already several "Mary Moore's" on the SAG books.
"I can't change my name," Moore, 75, said. "What would my father say?"
So how did she make it work? Adding in her middle name Tyler, which she also shares with her father.
"I was Mary Tyler Moore. I spoke it out loud. Mary Tyler Moore," she continued. "It sounded right so I wrote it down on the form, and it looked right. It was right. SAG was happy, my father was happy, and tonight, after having the privilege of working in this business among the most creative and talented people imaginable, I too am happy, after all."
And although it has been almost five decades since Van Dyke, 86, and Moore played husband and wife on the small screen, the actor couldn't hide his affection for his former co-star – who was just 23 when they met – and he sealed the moment by placing a long, big kiss on her cheek.