Country music's John Rich gave his gun to a police officer during Las Vegas shooting
John Rich, of Big & Rich, performed at the Route 91 Harvest Festival shortly before shots rang out at the show.
The country star was hanging out at the Redneck Riveria bar, which he owns, after his performance when the crowd at the festival was barraged with bullets.
The gun owner gave his weapon to an off-duty police officer.
Rich told Fox News on Monday, "I had a Minneapolis police officer off-duty hanging out. He came up to me and he showed me his badge and he says, 'I'm officer... and I am not armed for the first time ever I can't believe it. Are you armed? I said, 'Yes sir, I am armed.' I have my concealed weapons permit and I said, 'Yes, I am armed.' He said, 'Can I have your firearm so I can hold point on this front door?'"
Country duo Big & Rich describe horrific Las Vegas shooting: 'It was hysteria'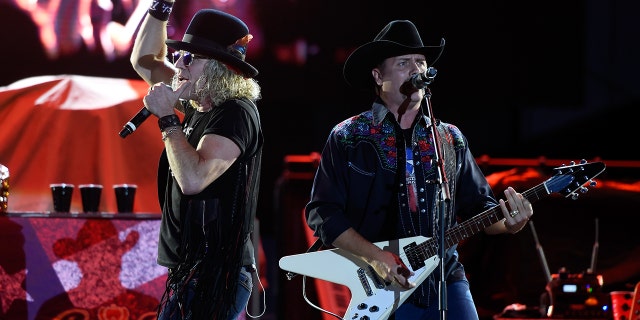 Rich desribed the scene at his bar.
"So, I handed over my firearm to him and everybody got behind him for about two hours without flinching this guy kept a point on that front door just in case somebody came through," Rich recalled.
The singer said Sunday evening's tragedy was "an attack on America."
The deadliest mass shooting in modern U.S. history left at least 59 dead and more than 520 people injured after a gunman opened fire on crowd of 22,000 concertgoers.
The 64-year-old shooter attacked the crowd from his hotel room at the Mandalay Bay overlooking the show.