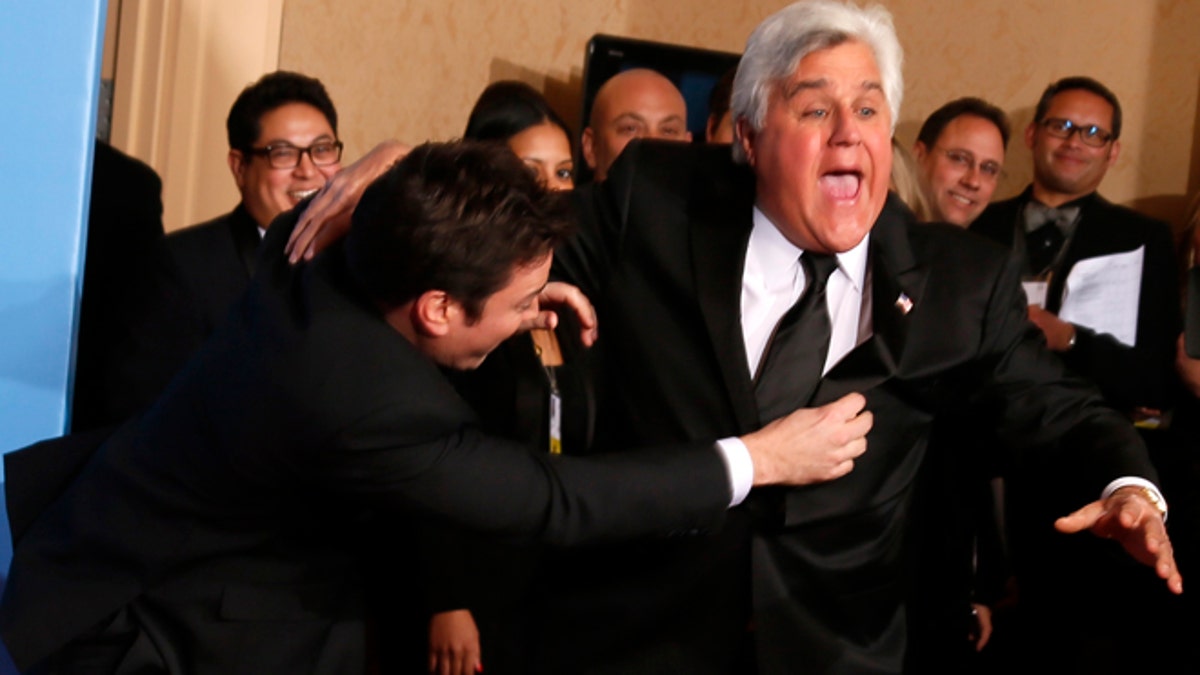 LOS ANGELES – The rumor mill is running rampant: Jimmy Fallon may follow in the footsteps of Conan O'Brien and try to succeed Jay Leno on the "Tonight Show."
You remember how well that one went.
According to The Hollywood Reporter, NBC is getting the wheels in motion for a May announcement that the 2013-14 television season will be last for veteran comedian Jay Leno, whose contract expires, will retire and be replaced by the network's reigning "Late Night" personality, Jimmy Fallon, in the coveted11.35pm time slot.
While NBC called the report "categorically false," and a rep for Leno has declined to comment, many industry experts agree that it is a very likely possibility.
But as O'Brien can attest, it may not be a smooth move.
"Fallon has proven himself to be an affable, funny and buzz-worthy host and far warmer than Leno. But such a decision is going to involve serious resolve on NBC's part, they need to stay the course and give Fallon the time and resources that he needs to truly build a brand new audience from scratch, an audience who embraces Fallon as 'their' late-night host," Hollywood-based entertainment and pop culture expert, Scott Huver, told FOX411's Pop Tarts column. "That's something NBC did not have the patience to give Conan, who is as capable a host as anyone who has manned a desk, but was a decidedly different comedic flavor from Leno."
The Conan/Leno/Late Night debacle is now deemed one of the most embarrassing disasters in television history. In June 2009, Conan moved his entire team to Los Angeles to take over Leno's "Tonight Show" in a bid to revive ratings, but when that didn't pan out, after just seven months, NBC announced it would be moving Leno, who had been given a new show, earlier in the night, back to 11pm, which would push Conan's 'Tonight Show' until after midnight.
The proposed change prompted massive public outcry, largely in support of O'Brien, who after two weeks of failed negotiations, dumped the show and the network, citing his unwillingness to be part of the "destruction" of the iconic franchise.
"After what happened to Conan, Jimmy (Fallon) and his team would be wise to squeeze every long-term guarantee possible out of NBC to avoid a premature outser," Huver continued. "O'Brien (now on TBS) and his team have still not fully recovered from the debacle caused by the network's impatience."
And since "The Tonight Show" is famously shot in Burbank, Fallon and his New York-based team would likely also have to take Conan's risky road of swapping coasts.
"If the production staff does movie everything out to the West Coast, considering NBC's itchy trigger finger, we would advise them to rent and not buy," quipped Yahoo! TV Content Producer Dave Nemetz.
However, Nemetz also noted that under the producing clout of Lorne Michaels – Fallon's reigning executive producer – the comedian may have enough pull to convince the network to keep his setup at 30 Rock.
"Fallon is definitely NBC's best hope of keeping pace among the younger demographic, so it seems like a smart play," Nemetz said. "And if the rumors are true, Leno will be retiring so he won't be looming over Fallon's shoulder (like in the case of O'Brien.) And to be fair, if Conan's 'Tonight Show' ratings were excellent, they wouldn't have had to bring in Leno to save the day. If Fallon comes in and knocks it out of the park, he doesn't have anything to worry about."
Los Angeles agent Alec Shankman concurred that Fallon would be a fine replacement for comedy veteran Leno, but he's far from being a shoo-in for the coveted job.
"Fallon is incredibly talented and hugely liked, although younger and a bit less universally mainstream than Leno, and he has a proven track record across a variety of formats of television programming," he observed. "But there are quite a few folks who are rumored to be up for these slots – so it is difficult to say just yet. But ultimately, it takes an ability to cater to late night audiences of all ages in a way that maintains, if not grows, the ratings from the current kings of late night."
As it currently stands, Leno is still winning the late night wars in overall ratings, but Jimmy Kimmel is becoming increasingly competitive in the key 18-49 demographic, and many industry experts anticipate that Fallon would be the best one to put up a fight. So if all does fall into place, it will at least make great fodder for fellow television personalities as the Jimmy versus Jimmy ratings debate goes down week after week, given that earlier this year ABC moved "Jimmy Kimmel Live!" to its 11.35pm slot.
"Talk about some competition," enthused show writer and entertainment publicist, Xaque Gruber. "It's a tricky game to win in the late night slot, but both Jimmys have incredibly entertaining shows, and they both have what it takes to succeed going head-to-head. But it's a big enough pie for both to have a slice."