Carrie Underwood made her first red carpet appearance since welcoming her second child at the 2019 Academy of Country Music Awards.
The "Jesus, Take The Wheel" singer arrived at the star-studded affair donning a shimmering over-the-shoulder black and gray sequin dress complete with two thigh slits that left both of her toned legs exposed.
CARRIE UNDERWOOD'S HUSBAND MIKE FISHER WISHES SINGER HAPPY BIRTHDAY: 'LOVE YOU LOTS'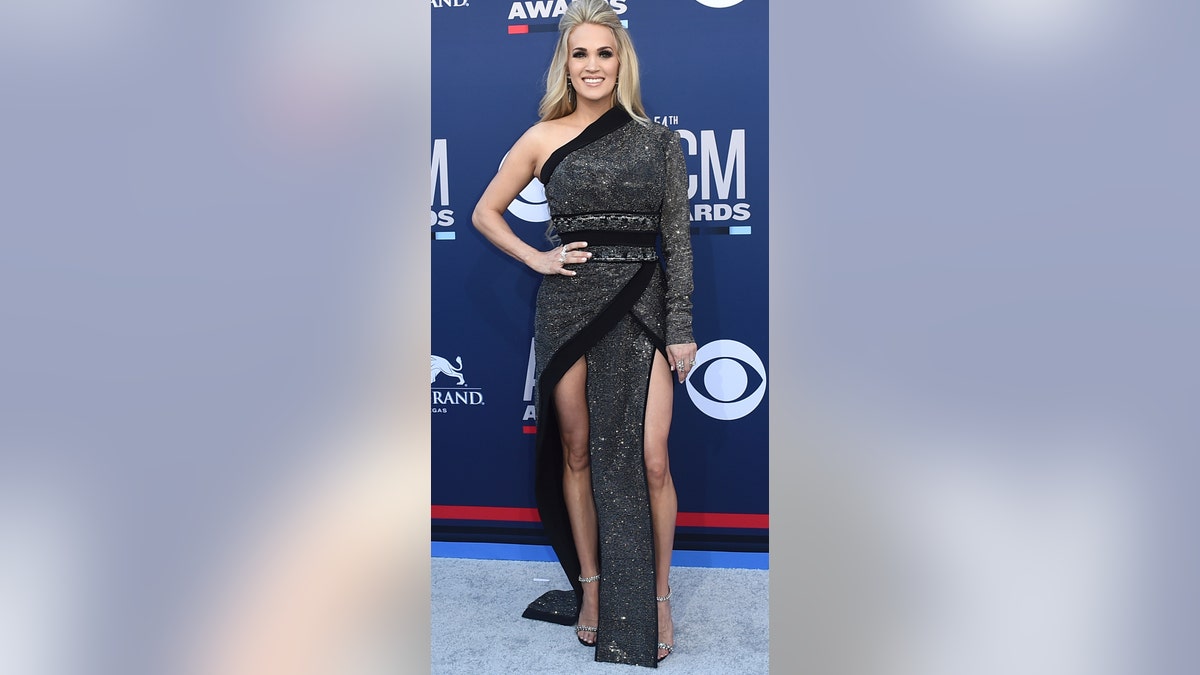 Underwood looked confident despite sharing in an Instagram post last month where described in a lengthy note to her followers the difficult time she's had "bouncing back" after giving birth to her second son Jacob on January 21 – just two months ago.
"I'm going to be honest, "bouncing back" after having Jacob has been much more difficult than after I had Isaiah and I've been pretty hard on myself lately. I go into the gym and I can't run as fast or as far," the "Before He Cheats" songstress wrote.
CARRIE UNDERWOOD, MIKE FISHER SAY NEWBORN IS 'GIFT FROM THE LORD,' GIVE HIM BIBLICAL NAME
"I can't lift as much weight or do as many reps as I could a year ago. I just want to feel like myself again...for my body to feel the way that I know it can. As I was working out today, I realized that for the past 11(ish) months, my body has not belonged to me. It was a perfect home for Jacob. And even now it belongs to him every time he drinks his milk."
However, despite how difficult it's been, the singer made a pledge to fans to stop over-analyzing her every flaw and appreciate what she is able to do in the wake of her recent pregnancy.
CARRIE UNDERWOOD ON HAVING ANOTHER BABY BOY: 'IT WAS JUST GREAT NEWS'
"As I prepare for red carpets and for life on tour, right now I make a promise to myself to start appreciating what my body CAN do and stop focusing on what it can't. I promise to stop analyzing every angle and every curve and every pound and every meal," the seven-time Grammy Award-winner told her fans. "I'm going to keep staying the path because it is a journey and as long as I'm always working towards my goals, one day I'll reach them. I'm going to take it day by day, smile at the girl in the mirror, and work out because I love this body and all it has done and will continue to do!"
Underwood, who is slated to perform at the country music celebration is nominated for female vocalist at the 2019 ACM Awards.
Fox News' Tyler McCarthy contributed to this report.