Carrie Stevens talks Playboy past: 'I used to go to the Mansion when I was pregnant'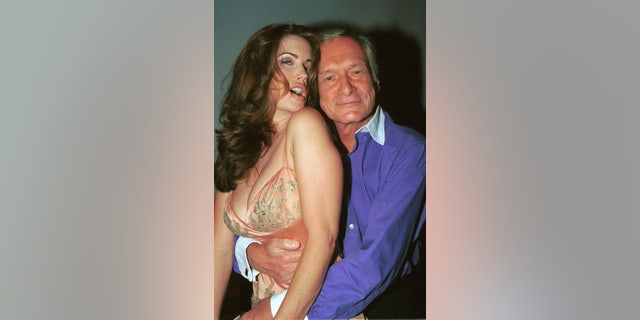 Carrie Stevens has fond memories of her time with Playboy while she was also expecting a baby.
KENDRA WILKINSON WISHES HUGH HEFNER A HAPPY BIRTHDAY
"I used to go to the Mansion when I was pregnant. It was always a part of our lives," explained the now-48-year-old actress to the men's entertainment magazine.
Stevens, a Buffalo, New York native, moved to Los Angeles in the '90s before becoming a Playmate in June 1997. When motherhood came along, she didn't feel the need to shy away from Playboy founder Hugh Hefner.
'HARRY POTTER' ACTRESS STRIPS DOWN FOR PLAYBOY
"The first time my son came with me [to the Mansion] was Easter, when he was two months old," said Stevens on her now-15-year-old child Jaxon. "Hef would invite us to come over on Sunday nights and holidays. He was always so gracious. Whenever we'd come over, he'd summon the photographers and want a picture with my son."
Stevens also added that the now-91-year-old welcomed her and Jaxon with open arms.
"I think Hef had an especially big heart when it came to me because I'm a single mom and didn't have any family in LA, so he included us like family," she said. "During dinner, my son liked to go around and bus the tables, help the staff. It was so cute."
PLAYBOY NAMES BROOK POWER 2017 PLAYMATE OF THE YEAR
That could explain why Jaxon wasn't shocked to learn that his mom previously posed nude for the magazine.
"I just asked him if he remembers when I told him I was a Playmate. He said, 'I don't. You've just always been a Playmate,'" recalled Stevens.
"I remember, though. He was five or six and we were standing by the patio in the Mansion," she added. "He looked up at me and said, 'Mommy, what is a Playmate, anyway?' I said, 'Well, it's a model, but she has her clothes off.' He said, 'But you wore your underwear, right?' I said, 'Yeah, I did.' It wasn't a complete lie. They might have been hanging from my toe. There were on me somewhere during that shoot!"