Brigitte Nielsen, 54, is pregnant with her fifth child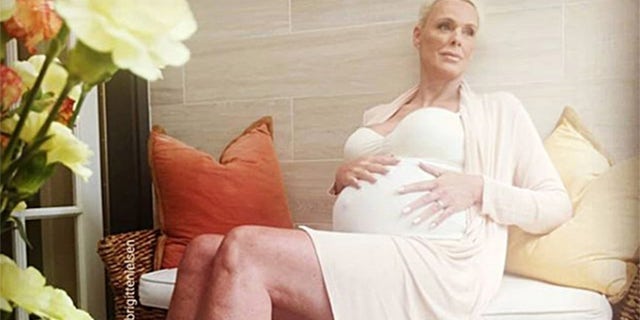 Brigitte Nielsen is 54 and expecting her fifth child.
The actress - best known for her roles in Beverly Hills Cops II and Red Sonja -- broke the news to her Instagram fans a few days ago by sharing a photo of her growing baby bump. "Family getting larger #me #family #brigittenielsen #babybump," she captioned the image.
JOSH BROLIN ANNOUNCES WIFE KATHRYN IS PREGNANT
On Wednesday, she shared another pic of her cradling her tummy, writing: "Happy time positive vibes #happyness #positivevibes"
Nielsen has been married to 39-year-old Italian TV producer Mattia Dessì since 2006, and has four other children from previous relationships.
CLINT EASTWOOD'S DAUGHTER IS PREGNANT WITH HER FIRST CHILD
Julian Winding, 34, is the son she shares with Kasper Winding, whom she was married to from 1983 to 1984, Killian Marcus Nielsen, 28, is her son with Mark Gastineau, while sons Douglas Aaron Meyer, 25, and Raoul Ayrton Meyer Jr., 23, are from her marriage to Raoul Meyer from 1993 to 2005.
Nielsen was also famously married to Sylvester Stallone and was romantically connected to rapper Flava Flav after their appearance on VH1's The Surreal Life.
GWYNETH PALTROW SHARES NUDE PHOTO FROM WHEN SHE WAS PREGNANT
For more photos of Nielsen, visit HollywoodLife.com.