Benicio del Toro defends Johnny Depp on abuse allegations, says wife sounds 'twisted'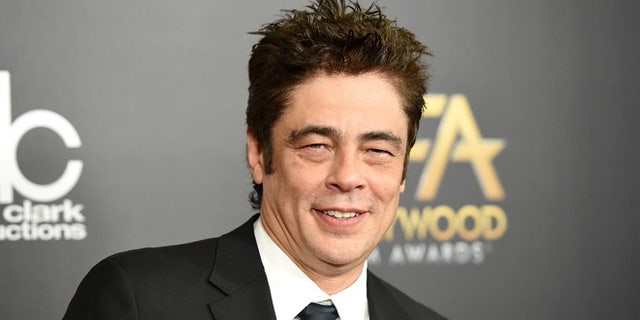 NEWYou can now listen to Fox News articles!
Benicio del Toro is offering his support to friend Johnny Depp amid domestic violence allegations made by Depp's estranged wife, Amber Heard.
Speaking to the New York Daily News on Tuesday, the Oscar-winning actor, who costarred with Depp in 1998's "Fear and Loathing in Las Vegas," questioned Heard's accusations, saying she sounds a little "manipulative" and "twisted."
"What I know, there's a lot of trouble from the girl that sounds a little manipulative," del Toro said. "It sounds a little bit like there's something really twisted about that girl ... but I don't know the specifics."
The Puerto Rican actor added: "It seems the fact that his mom passed away, and she filed for divorce two days later, and then she wants money, and she's saying she got hit, it's almost like, 'Wait, I saw them not too long ago. Maybe it was January, a dinner for the Oscars or something like that. He was there with her, and they were fine.'"
Del Toro, who described Depp as "a nice guy, very caring, very smart," is among the handful of voices defending the actor against the allegations.
Heard filed for divorce from the "Pirates of the Caribbean" star on May 23 – only 18 months after tying the knot – which was three days after the actor's mother died. A week later, she won a temporary restraining order against Depp after alleging that he had "verbally and physically abused" her throughout their relationship.
She presented several photos that she claims were caused by his abuse, including one in which she has a blackened right eye that he allegedly caused last month by hurling a cell phone at her.
Amid the scandal, TMZ reported that Heard was arrested in 2009 after allegedly grabbing and striking her then-girlfriend, Tasya van Ree.
Like us on Facebook
Follow us on Twitter & Instagram