Bebe Rexha addresses critics of racy music video: 'If I want to be sexy, I'm going to be sexy'
Bebe Rexha is at the center of an ongoing clash with society for acceptance and understanding.
The Grammy-nominated singer and songwriter spoke with Fox News about the double standard she says she faces as a female artist while responding to critics – including her father – who consider her newest music video, "Last Hurrah," too risqué.
"I think as a woman I'm trying to be unapologetic and embrace my sexuality — and do what I want," Rexha told Fox News. "But I still come from a conservative family and I think what it is for me is I love myself and just do what I want because it's art and that's what it's about. I can't make art just to make everybody happy, I have to make myself happy and that's what I go by."
BEBE REXHA DEFENDS DAD'S PLEAS ASKING HER TO 'STOP POSTING STUPID PORNOGRAPHY'
Rexha, who admittedly is ferociously honest to a fault at times, said embracing her sexuality is an important part of creating her music and disagrees with the nomenclature that a woman who chooses to show herself in a sensual way is deemed to be exploiting herself.
"If I want to be sexy, I'm going to be sexy," Rexha, 29, doubled down. "If a man were to take off his shirt and show off his abs and rub oil all over his body, I doubt anyone would say that he's exploiting his sexuality — and that pisses me off. So, I'm definitely going to do what I want and do what I feel."
The "I'm a Mess" songstress isn't just impenitent about her music video which features intense make outs, sexual innuendos and racy getups, the fact is she relishes in the freedom she's found deep within to be just that – free in herself.
BEBE REXHA SLAMS DESIGNERS WHO ALLEGEDLY TOLD HER SHE'S 'TOO BIG' TO DRESS FOR GRAMMYS: 'F--- YOU'
"In the beginning, it really came from feeling insecure about my body. I was never a size zero or a size two – which there is nothing wrong with that," Rexha explained when asked about her decision to call out fashion designers who told her she was "too big" to dress. "Every body-type and shape should be celebrated because all body shapes are beautiful. And I think that it first came from a place of hurt and I was upset. Then, I saw that the video I put up of me speaking out just resonated with my fans."
The Brooklyn native continued: "I bump into people on the street that I don't know and they stop me and say, 'Oh my God, I saw your video and that helped me so much. Thank you for speaking out.' And I can't believe how many people the video has gotten to and that makes me feel so good that I'm not the only one – and that I'm helping people."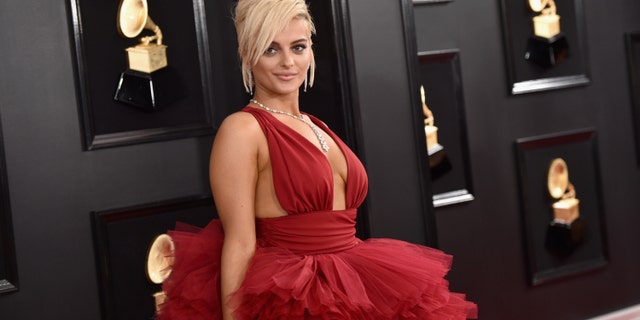 BEBE REXHA FLAUNTS HER CURVES AT GRAMMYS RED CARPET AFTER DESIGNERS REFUSED TO DRESS HER FOR BEING TOO BIG
Now, in Rexha's newest initiative with Lays, the pop superstar is turning up the heat by debuting her new song, "Right Here, Right Now" in conjunction with three bold new flavors – each of which comes with different rock, pop and rap versions of the record, created by Rexha.
Rexha has certainly catapulted herself into a new stratosphere with regards to her music and songwriting ability which landed her atop Billboard's "Hot Country Songs" list for 50 straight weeks thanks to her global smash "Meant To Be" with Florida Georgia Line.