Bebe Rexha shares disappointment with fans after Grammys, other awards losses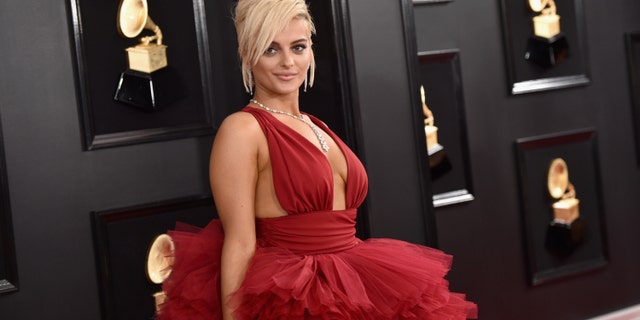 After landing her first Grammy nomination for her song "Meant To Be," Bebe Rexha took to Twitter shortly after the show to express her gratitude for the nomination as well as get very honest and candid about her disappointment at losing.
The star lost her Grammy category for best country duo/group performance to Dan Shay as well as the best new artist category to Dua Lipa. Shortly after the show, Rexha posted a tweet expressing how grateful she was for being allowed to attend the Grammys.
SINGER BEBE REXHA CALLS OUT UNNAMED MARRIED FOOTBALL PLAYER WHO KEEPS TEXTING HER
"Thank you so much to the @RecordingAcad for the most incredible evening and the honor to be nominated in 2 categories with such talented and respected artists. I am throwing a 'win or lose' party tonight - because to me, the win is in the nomination," she wrote.
However, her mood shifted a bit soon after as she admitted to fans that she was upset to have lost.
"I can't lie I'm a little bummed. BUT I could either lay in bed or get the f--- up go to the studio, write a new song and then finish the video edit for my new single Last Hurrah. I'm not laying in bed," she wrote.
The star went on to note that she has lost a lot of major awards this year, but took a fellow nominee's words to heart.
BEBE REXHA SLAMS DESIGNERS WHO ALLEGEDLY TOLD HER SHE'S 'TOO BIG' TO DRESS FOR GRAMMYS: 'F--- YOU'
"Everyone kept telling me how many records Meant To Be has broken and how it deserved an award. But We lost a CMA, Billboard, Vma, Grammy. Zilch. And then I thought of what @Drake said last night," she wrote. "'You've already won if you have people singing your songs word for word.'"
She continued: "I still feel like a winner. I'm alive and I get to make more music."
Rexha concluded her Twitter rant by posting photos of herself from her post-Grammys party along with a message of hope.
CLICK HERE TO GET THE FOX NEWS APP
"Win or Lose. We still partied because in our hearts we are still winners. (Or at least my mom thinks I am) lol."