Are Young, Religious Stars like Justin Bieber and Tim Tebow Making Christianity Cool?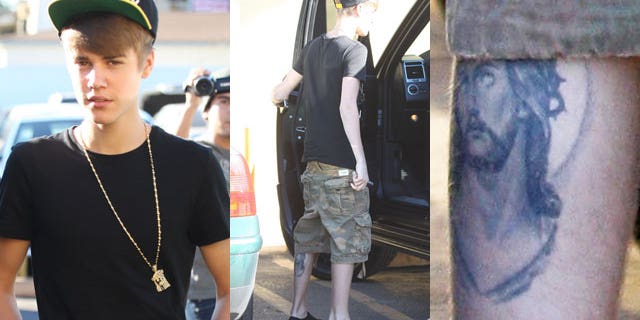 What do young superstars Justin Bieber, Demi Lovato, and Tim Tebow have in common?
They believe in God, and they don't mind sharing.
Over the weekend Justin Bieber made news with his a new tattoo — a large portrait of the face of Jesus Christ inked on his calf. Bieber's ink happened to dovetail with the Denver Broncos unlikely win over the Pittsburgh Steelers, the latest in a string un unlikely victories that their 24-year old quarterback, Tim Tebow, regularly and publicly thanks Jesus Christ for helping him achieve.
And off in the Twitterverse on Friday, the troubled former Disney star and singer Demi Lovato, 19 years old, took to the social network to talk to her fans how she has put her faith in God to get her life back on track after a stint in rehab.
So are these young, hip and very public Christians in the worlds of music, television and sports are making it cool for the highly connected Generation Z to embrace Christianity?
"Today's young people are impressed by the position and appearance of these celebrities. Simply because of their popularity and prominence they are perceived as heroes and role models," explains Whittier College Religious Studies professor Joseph L. Price. "When celebrities express appreciation to God for their talents this generation will see it as aspirational."
Justin Bieber has long made much of his Evangelical faith, but this new tattoo and an upcoming interview with V magazine show new outward signs of his dedication to Christianity and his willingness to share his beliefs with his fans.
Cathleen Falsani wrote the book "Belieber: Fame, Faith and the Heart of Justin Bieber" about Bieber's faith, and she believes his recent physical transformation is the act of a 17-year-old settling into spiritual life.
"I think that's what we're seeing Justin do now, whether it's in his choice of body art or in how he has, in recent months, been more explicitly vocal -- unprompted, largely -- about his faith," Falsani said. "His is a nuanced articulation of faith, which, to my ear, speaks both to how genuine it is and how it is evolving and becoming his own."
In a cover story hitting stands this week, Bieber told V magazine that he actually communes with God.
"A lot of people who are religious, I think they get lost. They go to church just to go to church. I'm not trying to disrespect them, but for me, I focus more on praying and talking to him," Bieber says. "I don't have to go to church."
Bieber isn't the only young star talking about a direct line to the almighty.
Tim Tebow has spent this football season thanking Jesus Christ after nearly every single football game and openly praying on the field. His fervor, following his team's win over the Pittsburgh Steelers on Sunday, inspired several religious-themed topics to trend on Twitter.
The intersection of religion and fame is nothing new. Celebrities have been public about their faith in the past, most recently with stars like Madonna and former couple Demi Moore and Ashton Kutcher publicly practicing Kaballah, but until now, it has been rare to see young people in the spotlight so expressive over their spirituality. Experts believe it may be a boomerang response to the seeming godlessness in Hollywood today.
"As pop culture gets more and more risqué with sex tapes and nude photo scandals becoming the norm for up and coming starlets, it is refreshing for these younger celebrities to take a less controversial path," explains Lilit Marcus, who blogs about the intersection of faith and pop culture at the Patheos blog Faith Goes Pop. "The young men and women who are looking for role models in the media deserve as many options as possible, and it is great that someone is telling them, 'you can be religious and be cool.'"
Being godly can also be a smart marketing plan in our krude Kardashian obsessed society.
"It's not bad brand marketing," explains Ann Neuman, the editor of The Revealer website at New York University's Center for Religion and Media. "Bieber's godliness makes him particularly safe and acceptable to tweens and their parents."
Neuman also says the juxtaposition with God also sets these celebs up as martyr figures, which is even more appealing to their fans.
"It's hard being a multi-million dollar sensation. You can have an off game, poor reviews and you're constantly in the public's critical eye. Having God in your corner means that he loves you even when you drop the ball or bomb a concert," Neuman said. "It also means a devoted audience for your product of fellow believers and a ready parable for both success and failure."