Anthony Bourdain's girlfriend Asia Argento speaks out after his shocking death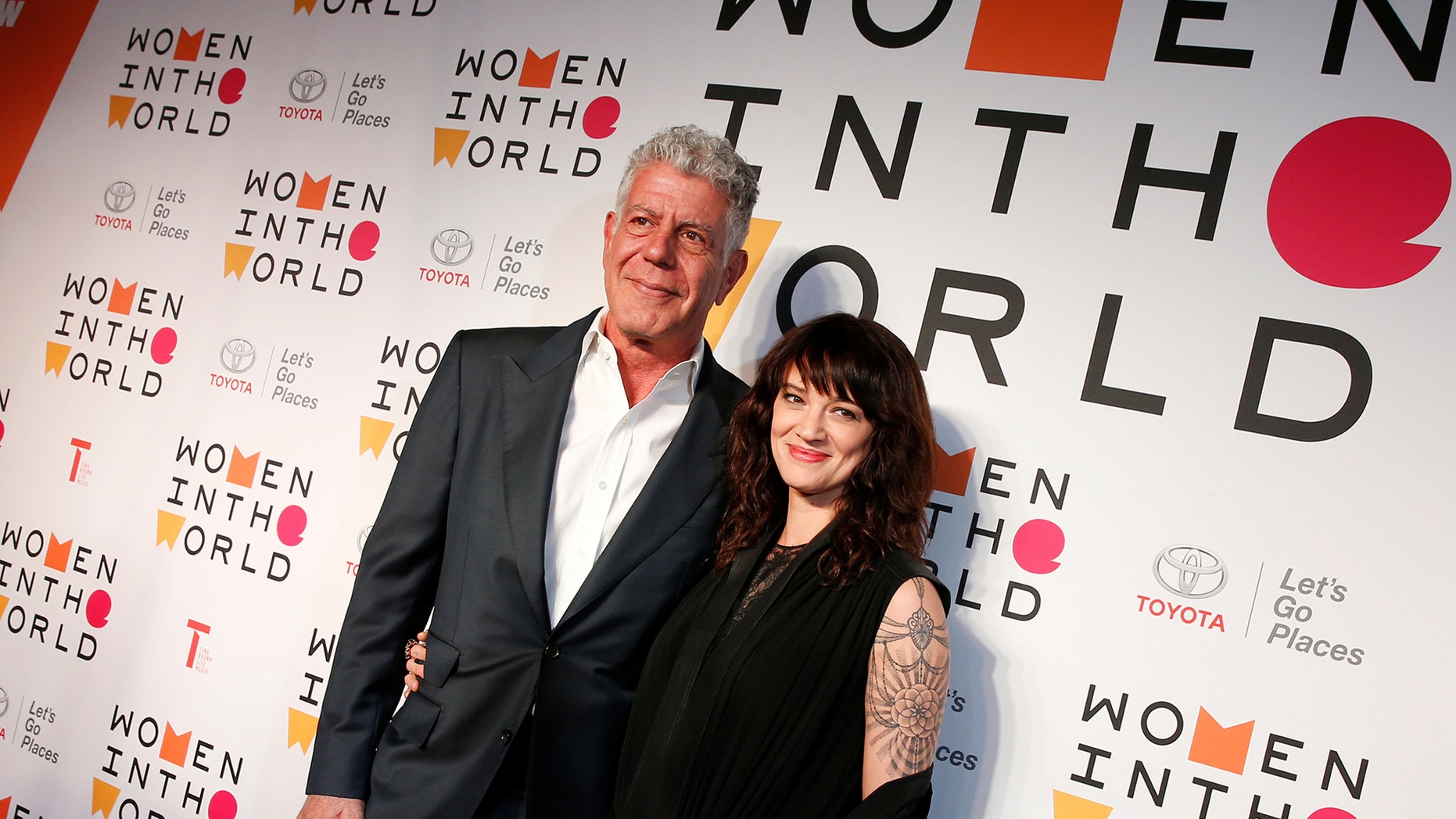 Anthony Bourdain's girlfriend Asia Argento spoke out following his shocking death from an apparent suicide on Friday.
Argento asked for privacy hours after her celebrity chef boyfriend was found dead in a hotel room in France.
"Anthony gave all of himself in everything that he did. His brilliant, fearless spirit touched and inspired so many, and his generosity knew no bounds. He was my love, my rock, my protector. I am beyond devastated. My thoughts are with his family. I would ask that you respect their privacy and mine," she tweeted.
Just three hours before Bourdain was found dead, Argento shared a photo on her Instagram story that showed her wearing a shirt that read "F--- EVERYONE."
"You know who you are," she captioned the post, according to People.
She has since deleted the Instagram story.
Bourdain and Argento confirmed their relationship in February 2017. Argento worked on an episode of Bourdain's CNN show "Parts Unknown" during the show's eight season.
He opened up about their relationship while speaking to People magazine in September.
"We both work a lot," he said, "and we're both away from home a lot so we're both circus freaks in the same circus—or different circuses I guess."
In one of his last interviews, he praised his girlfriend's directing skills.
He told Indie Wire in an interview published June 3: "Look, anytime I can get work out of Asia — even random suggestions... that's a huge help to the show," he said. "I'd love to have her a continuing director. I just don't think we can afford her. But, my God, I'd love nothing more than to repeat the experience. She made it incredible."
The TV personality was previously married to Ottavia Busia, with whom he shares a daughter, 11-year-old Ariane.
Bourdain became an outspoken supporter of the #MeToo movement after Argento accused Harvey Weinstein of sexual assault in October.
"I am proud and honored to know you. You just did the hardest thing in the world," Bourdain tweeted at Argento after Ronan Farrow's scathing expose about Weinstein was published in the New Yorker.
Another Weinstein accuser and #metoo activist Rose McGowan also tweeted a distraught message following Bourdain's death.
"Oh Asia Agento you've been through so much. Anthony, why?" McGowan said through tears.
She later deleted the post.
If you or someone you know is considering suicide, please contact the National Suicide Prevention Lifeline at 1-800-273-TALK (8255).