2019 Golden Globes nominees, hosts, how to watch and everything else you need to know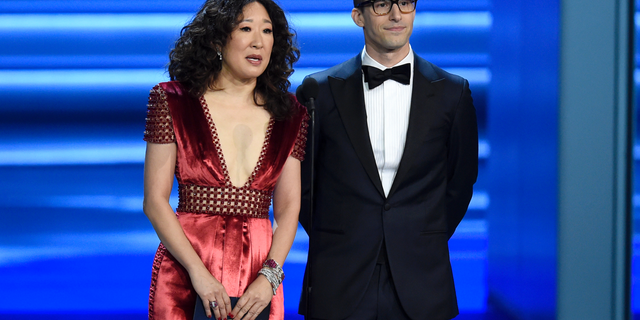 NEWYou can now listen to Fox News articles!
The New Year will feature a variety of shining stars as the Golden Globes kicks off award season on Jan. 6.
The Globes, which was created by the nonprofit Hollywood Foreign Press Association (HFPA) and first held in late January 1944, honor the best in film and television. Members of HFPA determine who will win specific awards for performances featured on both the big screen and television sets across the world.
There are 25 categories: 14 in motion pictures and 11 in television, according to the HFPA's website.
GOLDEN GLOBES NOMINATIONS INCLUDE 'VICE,' 'BLACK PANTHER,' 'A STAR IS BORN'
Read on for everything you need to know about the 76th annual award show.
How do I watch it?
The 3-hour Golden Globes ceremony will air on Jan. 6 on NBC. It will kick off from the Beverly Hills hotel at 8 p.m. ET.
Who's hosting?
Sandra Oh and Andy Samberg will co-host the Golden Globe Awards.
Oh won a 2006 Golden Globe for "Grey's Anatomy." This year, she became the first actress of Asian ethnicity to receive an Emmy nomination for drama series lead, for "Killing Eve."
MERYL STREEP'S POLITICALLY CHARGED COMMENTS, FROM THE GOLDEN GLOBES TO A COLBERT-HOSTED FUNDRAISER
Samberg won two Golden Globes in 2014 for "Brooklyn Nine-Nine," for best comedy actor and as a producer.
This isn't Samberg's first time at the mic — he hosted the 2015 Emmy Awards. The pair also did a trial-run as presenters during the Emmy Awards in September.
"Sandra and Andy are the perfect choices to host this world-class event," Paul Telegdy and George Cheeks, Co-Chairmen of NBC Entertainment, said in a statement. "They bring wit, charm and style to a room filled with the very best of film and television. It's sure to be another unforgettable fun-filled night."
Who's presenting?
Michael B. Jordan, Ben Stiller and Idris Elba were among the first presenters announced.
Other presenters revealed by the Hollywood Foreign Press Association include Catherine Zeta-Jones, Dick Van Dyke, Jamie Lee Curtis, Chrissy Metz, Felicity Huffman and Mike Myers.
What about the top nominees?
"Vice" topped all contenders Thursday with a surprising six nominations, including best picture, comedy. "A Star Is Born," ''Green Book" and "The Favourite" trailed close behind with five nominations each.
Joining "A Star Is Born" in the best picture, drama, category was: 'Black Panther," ''BlacKkKlansman," ''Bohemian Rhapsody" and "If Beale Street Could Talk." Up for best picture, comedy, alongside "Vice" are "The Favourite," ''Green Book," ''Mary Poppins Returns" and "Crazy Rich Asians."
The nominees for best animated film were: "Incredibles 2," ''Isle of Dogs," ''Mirai," ''Ralph Breaks the Internet" and "Spider-Man: Into the Spider-Verse."
Who has won the Cecil B. DeMille Award?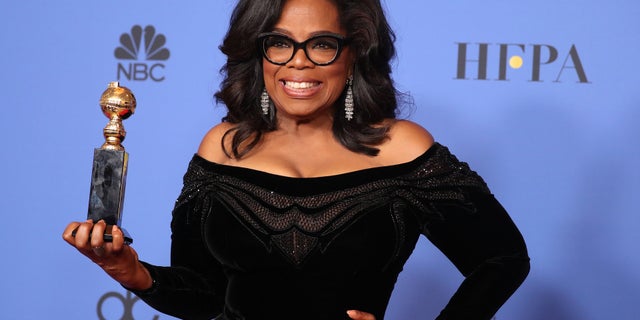 Talk show host Oprah Winfrey was announced as the recipient of the prestigious award, named for American filmmaker Cecil B. DeMille, last year. DeMille made 70 feature films between 1914 and 1956, including "The King of Kings" and "The Greatest Show on Earth."
The DeMille Award is given annually to an "individual who has made an incredible impact on the world of entertainment."
Winfrey's powerful speech focused on supporting women amid the #MeToo movement and speaking your truth.
"I want all the girls watching here and now to know that a new day is on the horizon,"she began. "And when that new day finally dawns, it will be because of a lot of magnificent women ... and some pretty phenomenal men fighting hard to make sure that they become the leaders that take us to the time when nobody has to say 'Me Too' again."
A year prior, actress Meryl Streep took home the prize — and she also made news with her acceptance speech.
As she accepted the award, the star urged members of the media to hold Trump accountable for his words and actions. And she slammed him for his behavior on the campaign trail, specifically toward journalists.
ANDY SAMBERG AND SANDRA OH TO CO-HOST 2019 GOLDEN GLOBE AWARDS
"This instinct to humiliate, when it's modeled by someone in the public platform, by someone powerful, it filters down into everybody's life, because it kinda gives permission for other people to do the same thing," Streep said. "Disrespect invites disrespect; violence incites violence. And when the powerful use their position to bully others, we all lose."
Streep's speech infuriated Trump, who called her "one of the most overrated actresses in Hollywood" and a "Hillary flunky who lost big" on Twitter.
Streep sarcastically responded to Trump's remarks nearly a month later during a speech at the Human Rights Campaign Greater New York Gala.
"Yes, I am the most overrated, over-decorated, and currently, over-berated actress ... of my generation," she quipped to the crowd, according to Vanity Fair. "But that is why you invited me here! Right?"
Other former recipients include Morgan Freeman, Jodie Foster, Barbra Streisand, Sidney Poitier and Lucille Ball.
Fox News' Madeline Farber and The Associated Press contributed to this report.