World Cup 2018 host cities in Russia allegedly killing off stray dogs ahead of tournament
As the 2018 FIFA World Cup approaches, some cities in Russia are allegedly preparing for the event in a way that has animal rights activists on edge: killing off stray dogs.
If that sounds familiar, you remember correctly: In 2014, when Sochi hosted the Winter Olympics, many of the city's strays were reportedly shot with poison darts (in fact, the city of Sochi paid at least one company nearly $30,000 to kill off 1,200 homeless dogs and cats with the darts, The Washington Post reported). Activists were outraged, while some Olympic athletes worked to adopt the dogs and take them back to their home countries.
Four years later, the issue has resurfaced. At least seven of the 11 Russian cities hosting World Cup matches have ordered street dogs to be killed off before Russia and Saudi Arabia spar off to officially commence this year's tournament on June 14, animal-rights activists told Fox News. Only Moscow, St. Petersburg, Nizhny Novgorod and Kaliningrad reportedly have policies against killing strays, according to the Los Angeles Times.
2018 FIFA WORLD CUP: WATCH LIVE MATCHES STREAMING ON FOX SPORTS FROM JUNE 14 TO JULY 15
FIFA and Russia's Local Organizing Committee did not immediately respond to Fox News' request for comment on Wednesday. In a statement to the Moscow Times, a spokesperson said the committee in "no way condones cruel treatment of wild and stray animals," adding that it expects host cities to "ensure animal welfare."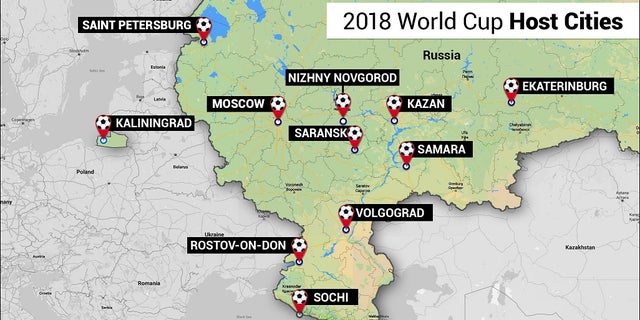 But some activists aren't convinced.
"Much of the same is happening just years after [Sochi]," Kelly O'Meara, vice president of companion animals for Humane Society International, told Fox News in a recent interview. "Local organizations on the ground are seeing it for themselves or finding the dead bodies later on."
O'Meara explained that most of the strays are poisoned by contaminated bait or darts. Once they die, so-called "dog hunters" circle back and collect their bodies. Others are rounded up and held at a "shelter" and are typically killed later on.
WORLD CUP SCHEDULE, HOW TO WATCH AND OTHER THINGS TO KNOW
Humane Society International, as well as other animal rights groups, such as People for the Ethical Treatment of Animals (PETA), have advocated for more "humane and effective ways of handling the strays," said O'Meara, referencing a mass vaccination initiative. As a long term solution, spaying or neutering all strays before re-releasing them into the streets would be ideal. While finding permanent families for the dogs would be preferred, the country lacks a strong adoption culture, O'Meara said — meaning many of the dogs currently in shelters in Russia will never leave.
Jana Hoger with PETA Germany told Fox News the organization had sent letters to each of the host cities advocating for change, while O'Meara said Humane Society International reached out to Russian authorities to offer "their guidance and expertise" to start a mass-vaccination initiative.
"The issue will continue to be ongoing for every future event they host unless the Russian government gets behind this and gets to work."
Neither organization has received a response.
WORLD CUP QUALIFIERS: THE 32 TEAMS HEADING TO THE TOURNAMENT
So, the culling continues. It also serves as a lucrative business venture; Hoger estimated hunters receive roughly $8 per dog that's captured or killed. In fact, the Los Angeles Times also reported that government contracts pay up to $160,000 to kill off strays, while The Washington Post reported a Yekaterinburg city contract from January revealed that a company received more than $500,000 for capturing the dogs.
Why are dogs being killed? O'Meara said the reasoning is two-fold.
First, the Russian government allegedly claims the dogs are a "public health concern." But the reality is quite the opposite, she said.
"The dogs that are captured are the least likely dogs to bite," she said, adding that killing off the friendly pups presents a "greater health risk for the community because it allows the more elusive, less socialized dogs to move in."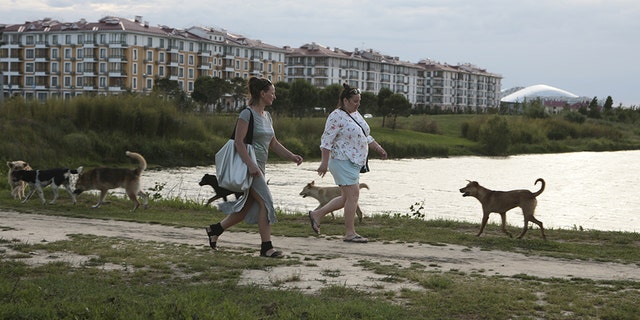 The dogs are also considered "unsightly" O'Meara said, which she labeled as the second-biggest reason the government wants the streets cleared of strays.
TWITTER EYES WORLD CUP WIN WITH NEW UPDATES FOR SOCCER FANS
But killing dogs, especially inhumanely, places a "negative image on the country and how they handle this problem," she said, adding that Sochi served as an example.
While some activists fight specific regulations at a municipal level, there are no federal laws that protect the nearly 2 million stray dogs in Russia, according to Hoger. Vaccinating, spaying or neutering animals is also not regulated, according to LAPA, a United Kingdom-based animal charity that advocates for homeless animals in Russia.
The sole animal legislation proposed in the Russian parliament has remained in draft form for more than seven years, according to the Los Angeles Times. The promise of its passage seems bleak -- perhaps because "animals are considered property, they are not considered to have any rights to protection in Russia," Ekaterina Dmitrieva of the Urban Animal Protection Fund in Moscow told the newspaper.
Getting the broader public to care also poses an issue for activists.
"When you tell people that the Russian government pays people to kill stray animals, at first they can't even believe what you are saying. But then they ask me, 'Why should we care about these street dogs when we humans have enough problems of our own?'" Dmitrieva added.
In the meantime, O'Meara said activists are fighting tooth and nail for change, hoping to educate the public about the importance of vaccinating, spaying or neutering strays and ultimately instilling a stronger adoption culture within the country.
But without widespread change, "the issue will continue to be ongoing for every future event they host unless the Russian government gets behind this and gets to work," she said.