Woman kills pregnant teenager to steal unborn baby, police say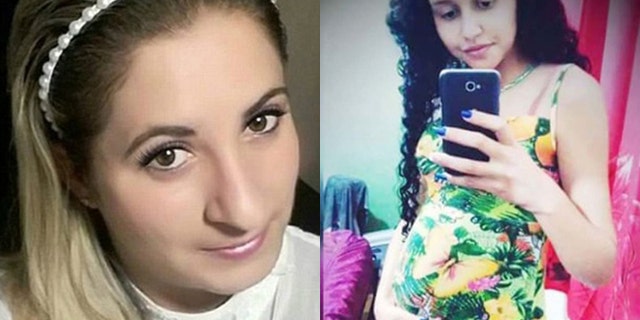 NEWYou can now listen to Fox News articles!
A Brazilian woman who for months pretended she was pregnant – and even posed for photos with a baby bump – stabbed a teenager to death to try and steal her fetus, police said.
Mirian Aparecida Soares Siqueira, a 25-year-old resident of Pitangueiras in the state of São Paulo, allegedly lured Valissia Fernandes de Jesus, 15, to her home last Wednesday, where she stabbed her repeatedly and tried to cut the fetus out of her womb, according to media reports.
The unborn child did not survive, and Soares Siqueira allegedly dumped the baby in a bathtub next to a trash bin. Then, police said, she stuffed Valissa's body in a barrel in the back yard, according to the International Business Times.
That is where Soares Siqueira's husband, Mateus Rogério Cardoso, 37, found the bodies when he arrived home after a night out at a bar.
Soares Siqueira reportedly admitted to him that she had stabbed the teen as a result of a fight, but told him that the fetus was hers, police said.
Her husband called police but she fled before police arrived.
For a few days, police searched for her in vain. Rogério Cardoso told a local TV crew, "Mirian claimed she was pregnant. I have no idea where she is now."
A few days later, Soares Siqueira turned up some 20 miles away in a police station in the town of Sertãozinho, with her mother.
Pitangueiras police chief Mauricio Nucci told local reporters that Soares Siqueira had been friends with Valissa for a few years.
The Mirror Online spoke to Valissa's sister, Elida, who said Soares Siqueira lured her to her home on the pretext of showing her baby shoes.
"Valissia didn't leave the house much because she couldn't walk far," Elida told the publication. "My sister … left with Mirian saying she was going to look for the shoes. That was the last time I saw her."
Nucci said that the suspect admitted to cleaning the scene of the crime and hiding the knife in their home.
"We're still trying to find that knife," he said.
The Pitangueiras police chief added, "In 15 years on the job, this is one of the cruelest cases I have ever seen."
The case caused such anger in the region that, over the weekend, around 100 people attempted to storm the police station where Soares Siqueira was being held. Riot police fired gunshots into the air and used tear gas to disperse the angry crowds, according to local media reports.
Like us on Facebook
Follow us on Twitter & Instagram