Woman in Bulgaria undergoes DNA testing in 'Maria' case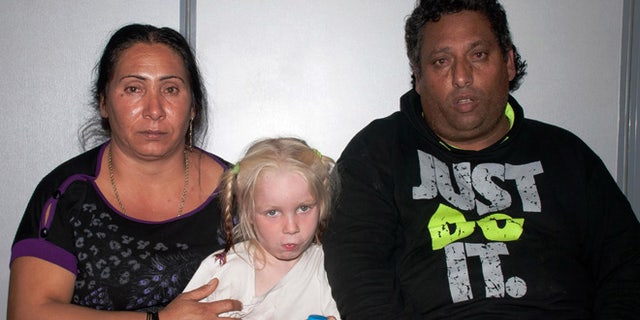 SOFIA, Bulgaria – A Roma woman in Bulgaria has undergone DNA testing and faces preliminary charges of child selling as authorities investigate if she is the mother of a young girl found living with an unrelated couple in Greece, authorities said Thursday.
Though the tests have yet to prove Sasha Ruseva, 35, is the biological mother of the girl known as Maria, the woman's admission that she once left a baby behind in Greece opened her up to a formal investigation.
Ruseva acknowledged to Bulgarian TV that she had been questioned about the girl, believed to be 5 or 6 years old, who was found during a raid for drugs and weapons in a Roma camp in central Greece last week. The child's case gained global notice and has drawn what human rights advocates say is unfair accusations in general against the Roma community, which has long faced racism and poverty.
Ruseva said she wanted the child back if tests prove she is the girl's mother. But she denied taking any money for giving up her baby to another Roma, or Gypsy, family, years ago. The preliminary charges filed against her allow authorities to start an investigation into whether money exchanged hands.
Greek authorities took custody of "Maria" after a prosecutor present during the camp raid noticed the blonde, blue-eyed and pale-skinned girl looked nothing like the couple who were raising her, and a DNA test confirmed she was not related to the couple.
Bulgarian Interior Ministry chief secretary Svetlozar Lazarov said that during Thursday's questioning by police, Ruseva said she had recognized the Greek Roma couple in the "Maria" case, whose pictures have been broadcast on TV, as the same people with whom she left her child while working in Greece.
The couple, ages 39 and 40, have been remanded in custody by Greek authorities, on charges of child abduction and document fraud. They had insisted to police and prosecutors they had been given the girl by a destitute Bulgarian woman who was unable to raise her, and had brought her up with their own five children.
But authorities had initially doubted her account and launched an international search to match her to children reported missing.
Police alleged that the woman had declared six births in less than 10 months, and that the couple registered a total 14 children with officials in three cities. The suspects allegedly received more than 2,500 euros ($3,450) a month in welfare payments, and authorities are examining whether the child registrations amounted to welfare fraud.
The girl's DNA, however, didn't match any cases of missing children held by the international police agency Interpol.
The search eventually led to central Bulgaria, where police tracked down Ruseva in the town of Nikolaevo.
Ruseva said she gave birth to a girl while working as an olive picker in Greece "several years ago," but that she had to leave the child because she didn't have enough money to take her home. Ruseva has had eight children.
"I intended to go back and take my child home, but meanwhile I gave birth to two more kids so I was not able to go back," Ruseva said on Bulgarian TV, insisting that she did not get paid for giving up the girl.
Though Ruseva herself is dark-haired and dark-skinned, she held a fair-skinned baby girl -- with hair dyed bright orange -- in her arms as she spoke, while a blond, pale-skinned young boy played at her feet. Bulgarian television showed footage from the dilapidated house in the impoverished Roma camp where Ruseva lives.
Prosecutors, meanwhile, announce they had pressed preliminary charges against Ruseva for "deliberately selling a child while residing out of the country."
"A DNA test has been taken from Ruseva, and information has been collected about her trips to Greece in the last years," said a statement from the prosecutor's office.
The "Maria" case has spurred concerns about child trafficking within the Roma community, and cries of racism as well.
In an episode apparently inspired by the Greek case, two young blond, blue-eyed children were taken by police in Ireland from their Roma parents, who had different complexions. But the girl and boy were returned to their families Wednesday after DNA tests determined the children were rightfully theirs.
"The long-standing problem of negative media reporting on minorities has vehemently re-emerged with the cases of the children found in Roma families in Greece and Ireland," the Council of Europe's Commissioner for Human Rights Nils Muiznieks said in a statement.
"Most news reports, not only in Europe but all over the world, have insisted on the ethnicity of the families from which the children have been taken, thus propagating age-old myths portraying Roma as child-abductors. Such irresponsible reporting can have tremendous effects on the lives of millions of Roma and fuel already widespread violent anti-Roma movements."