With traffic lights out, Puerto Ricans cope with road snarls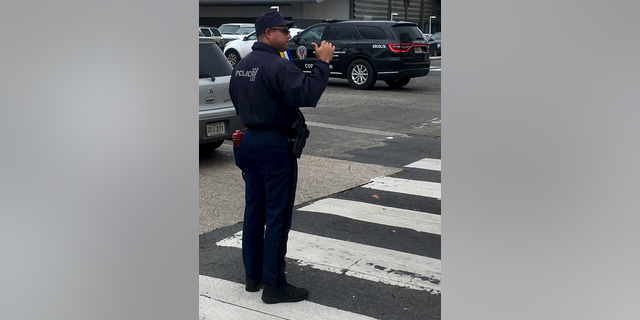 SAN JUAN, Puerto Rico – As three lanes of traffic sped toward him, Officer Ulises Villanueva held up the palms of both hands and blew a whistle, bringing the cars to a stop beneath a string of twisted, darkened traffic lights.
With most of Puerto Rico lacking power two weeks after Hurricane Maria struck, hundreds of police officers have been deployed to tame the snarls of traffic.
"The only thing that kills you is the heat," said Villanueva, clad in a dark blue uniform from his cap to his boots as he worked a 12-hour shift at an intersection on F.D. Roosevelt Avenue in San Juan's financial district.
Traffic is a part of life in the densely populated U.S. territory, but the outages have introduced new levels of congestion, particularly in the capital, San Juan, which has seen a steady return of commuters as it remains a hub for the island-wide relief effort. On city streets still clogged in some areas by downed tree limbs, intersections not manned by police officers can resemble automotive games of chicken.
Islanders have devised a range of strategies to cope.
"It's better to walk," said Fatima Arias, who was on her way to a San Juan bank and to see relatives. "We are not very polite in the streets. Everyone wants to go first."
Victor Serrano, who works in San Juan as an education program coordinator, has been carpooling with colleagues from his home in the suburb of Guaynabo, in part to conserve gasoline. He also adjusted his schedule to avoid the worst of the afternoon rush hour.
"I believe it's being managed as well as you could expect," he said of the traffic.
Hurricane Maria tore across the Caribbean island on Sept. 20 with winds over 150 mph, killing at least 34 people and devastating the island's antiquated electricity grid.
At a news conference on Thursday, Gov. Ricardo Rossello said power has been restored to 9 percent of customers. The government's hope is to have the power back on for a quarter of the island within a month's time, and for the entire territory of 3.4 million people by March.
Elvin Feliciano, who lives in Ponce on the south coast, drove across the island to San Juan for work on Thursday and gave officers high marks for keeping the traffic rolling.
"Everybody is cooperating," he said. "Ninety percent of the drivers are respectful."