White House says it's monitoring Argentina's turmoil as Fernández accuses U.S. of meddling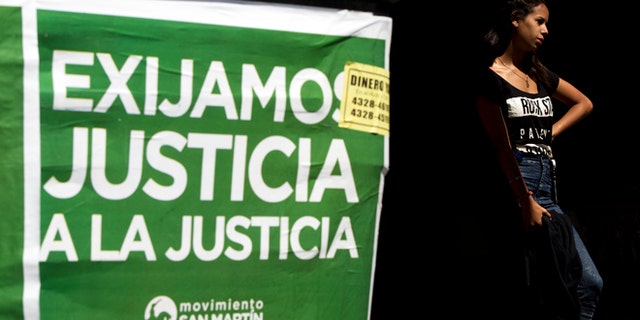 The United States confirmed on Wednesday that they were monitoring the ongoing turmoil in Argentina following the death of a prosecutor who had accused President Cristina Fernández of covering up Iran's alleged role in a 1994 bombing of a Buenos Aires Jewish center.
White House spokesman Josh Earnest said that the U.S. officials are "concerned" about issues regarding the rule of law and justice in Argentina that have arisen as the investigation into whether prosecutor Alberto Nisman had killed himself or was murdered.
Nisman's death on January 18 was originally ruled a suicide. But many have doubted it was a suicide because he died a day before he was supposed to provide details before Congress about his accusations against Fernández and Foreign Minister Héctor Timerman's alleged deal with Iran to lift international arrest warrants for Iranian officials wanted in connection with the 1994 bombing of the Argentinian Jewish Mutual Aid Association (AMIA).
The late prosecutor's Nisman's 289-page report on the bombing left little room for argument over the collusion between officials in Buenos Aires and Tehran to reach an understanding by which the cash-strapped Latin American country might receive cheaper oil. The transcripts indicate a secret meeting in Aleppo, Syria, in January 2011 between Argentinian Foreign Minister Héctor Timerman and his Iranian counterpart at the time, Ali-Akbar Salehi, during which Timerman suggested that Argentina would no longer be interested in investigating the AMIA attack if Iran were willing to supply the country with inexpensive oil.
Speaking at a nuclear power plant on Wednesday, Fernández suggested that the United States and Israel were meddling in the South American country's business. She failed to mention the march planned for Wednesday evening or Nisman's death.
The silent march was being organized by a group of prosecutors to demand answers in the gunshot death of Alberto Nisman, a prosecutor who was investigating the country's worst terrorist attack. Several opposition parties also planned to participate, raising tensions as government officials said the demonstration was politically motivated.
Fernandez referred to letters that Timerman said he sent Tuesday to his counterparts in the United States and Israel. Timerman said the two countries should not get involved in Argentina's affairs, but did not provide specifics.
"Some people wanted to play dumb and look the other way," Fernandez said of the accusations. "I urge all compatriots to read every paragraph of those letters."
Fernandez, known for populist, fiery speeches, did not elaborate. But she did cast the apparent friction as a battle of economic interests and attempts by other countries to keep Argentina down.
"In reality, they prefer an Argentina without a nuclear plan, an Argentina that does not develop scientifically, an Argentina with low salaries and cheap labor," she said.
The Associated Press contributed to this report.