What's The Best Way To Pay For College?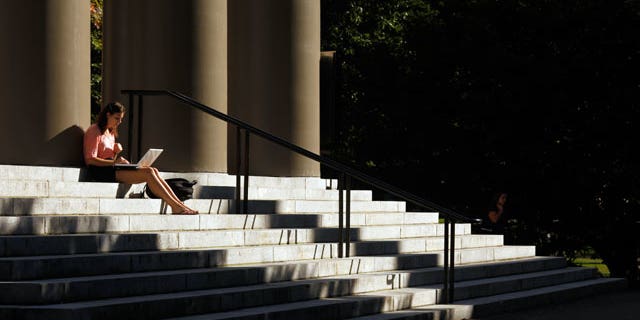 NEWYou can now listen to Fox News articles!
With average costs of $20,882 per year, college students and their families need to use a combination of personal, federal and private resources to pay for higher education.
Loans, grants and scholarships can get you closer to your goal. Here's how:
Finding the best loans
If you decide to take on a loan, apply for the maximum amount of federal loans available because they carry much lower fixed interest rates than private loans and have more flexible repayment options. There are three types of Direct Federal Loans:
• Direct Subsidized Loans are only for undergraduate students in financial need. The U.S. government pays interest during enrollment and for the six-month grace period after. The current interest rate is 4.66 percent.
• Direct Unsubsidized Loans are available for all undergraduates and graduates regardless of financial need. You have to pay the interest on this kind of loan when you're enrolled in school and after. The current fixed interest rate is 4.66 percent for undergraduates and 6.21 percent for graduate students.
• Direct PLUS Loans are for the parents of all undergraduate or graduate school students. Disbursement is determined by a credit check, but the current fixed interest rate is 7.21 percent. There is also a loan fee on all Direct PLUS loans, which is determined by the timing of the loan disbursement.
The Federal Perkins Loan Program offers federal loans for undergrads and graduate students in financial need through each school. The current interest rate is 5 percent. Undergraduate students can borrow up to $5,500 per year, while graduate students can borrow up to $8,000 per year.
Private loans carry variable interest rates determined by the applicant's credit score and the market rate. While federal loans do not require payment until after a student leaves school, payments may begin on private loans while a student is still enrolled.
Applying for the best scholarships
Grants and scholarships don't need to be repaid and can come from sources including the federal government, schools, private or nonprofit organizations and religious institutions.
Finding the best scholarships starts with filling out the Free Application for Federal Student Aid (FAFSA). Even if you don't think your financial situation qualifies, many institutional scholarships are sourced this way. Students also can apply for Pell Grants, which are based on financial need, college costs and enrollment status. The current maximum award is $5,730. The Federal Supplemental Educational Opportunity Grant awards up to $4,000 per year for students with high financial needs and is administered by each school's financial aid office.
The NerdScholar Scholarship Search tool can help you find scholarships you qualify for.
Avoiding enormous debt
No matter what loan option you choose, it's crucial to only borrow what you need, which may not be the maximum. Private loans tend to be stricter about repayment, but if you take a federal loan, there may be some options available to you.
The standard repayment plan sets a monthly amount to be paid over 10 years. Graduated repayments allow lower initial payments that increase over time. Extended repayment takes 25 years instead of 10. Payments for income-driven plans such as the Income-Based Repayment Plan, Pay As you Earn Repayment Plan and Income-Contingent Repayment Plan range from 10 percent to 15 percent of your discretionary income. Those who enter public service careers can qualify for federal loan forgiveness after 10 years of payments.
Consolidating or refinancing your loans streamlines your repayment to one monthly amount with one interest rate. However, this option is likely to increase the amount of interest you'll pay over the life of the loan.