West sends 'terrorists' to Syria to be rid of them: Assad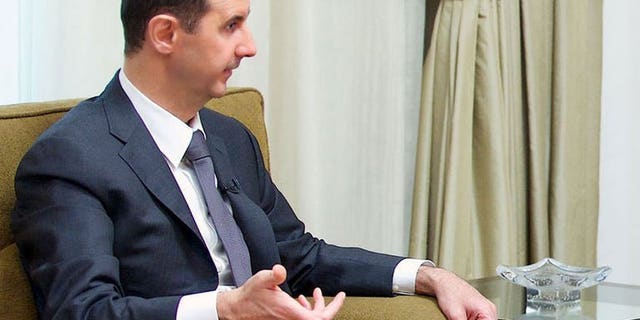 DAMASCUS (AFP) – Syria's President Bashar al-Assad accused the West of sending "takfiri terrorist groups" to his country as a way to get rid of them, in an interview with a Syrian daily published on Thursday.
Western countries believe that "these takfiri (extremist) terrorist groups that have been a security concern for decades will come to Syria and be killed and that way they will get rid of them," Assad told the Al-Thawra daily.
Assad added that the West hoped that by "supporting terrorism in Syria" it could weaken the country, which has been torn apart by a conflict that began with peaceful anti-government protests in March 2011.
Syria's government describes all those opposed to its regime as "terrorists," and has pointed to the increasing entry of foreign fighters into the conflict as evidence that the uprising is a militant plot.
Assad told the newspaper, a government daily, that even Western countries backing the uprising no longer referred to it as a "revolution."
"The word revolution is no longer mentioned, now what's being talked about is terrorism," Assad told the daily.
"They've moved to another phase. They distinguish between a good terrorist and a bad terrorist... but the word revolution is no longer mentioned," he said.
Much of the international community has thrown its support behind the uprising against Assad, including the United States.
But backers of the revolt have been cautious about arming the rebels in part for fear that weapons could fall into the hands of the most radical members of the opposition, including the Al-Nusra Front, which is allied with Al-Qaeda.
In excerpts from the interview released a day earlier, Assad said the massive protests in Egypt against president Mohamed Morsi brought the fall of "political Islam."
In the interview, conducted before the ouster of Morsi, Assad said the Egyptian protest marked "the fall of what is known as political Islam."
"Anywhere in the world, whoever uses religion for political aims, or to benefit some and not others, will fail," he said.