Washington reportedly uneasy about North and South Korea inter-talks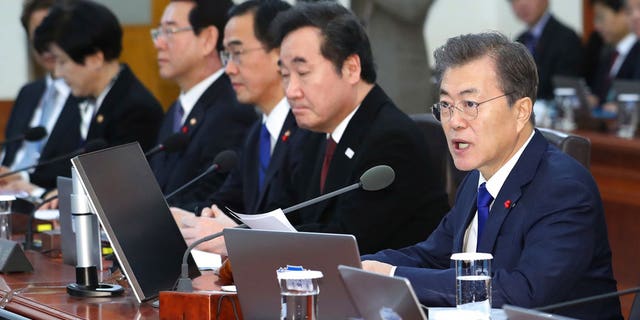 The Trump administration on Tuesday expressed reservations at the prospect of high-level talks between North and South Korea, dismissing the effort as an appeasement to Pyongyang, The New York Times reported.
Following Kim Jong-Un's proposal to meet with Seoul for high-level talks, some analysts said the overture was a duplicitous ploy to drive a wedge between Washington and Seoul, and "escape the harsh sanctions" imposed on North Korea.
While South Korean President Moon Jae-in has responded positively to Pyongyang's proposal for high-level talks with North Korea, Washington has been ambivalent about the prospect.
"The United States is committed and will still continue to put maximum pressure on North Korea to change and make sure that it denuclearizes the peninsula. Our goals are the same and we share that with South Korea, but our policy and our process has not changed," Sarah Sanders, the White House press secretary, said.
United States Ambassador Nikki Haley took a more austere approach at the United Nations on Tuesday saying, "We won't take any of the talks seriously if they don't do something to ban all nuclear weapons in North Korea. We consider this to be a very reckless regime, we don't think we need a Band-Aid; we don't think we need to smile and take a picture. We think we need to have them stop nuclear weapons and they need to stop it now."
The Trump administration is still asserting its position on high-level talks between the North and the South without United States' involvement.
Heather Nauert, a State Department spokeswoman, warned that any strategy by North Korea to strain relations between South Korea and the United States "would not succeed."
While Trump initially responded with caution at the idea of the North and the South meeting without the United States, tweeting "Perhaps that is good news, perhaps not – we will see!" a later tweet boasting about having a "bigger" button than Kim drew more media coverage.
"Will someone from his depleted and food starved regime please inform him that I too have a Nuclear Button, but it is a much bigger & more powerful one than his, and my Button works!"
Myoung-gyon suggested the talks between the two Koreas be held next Tuesday in Panmunjom, a village along the border of the Demilitarized Zone, which had previously been used for high-level talks.