War of words between Venezuela, Paraguay, 'bold threats' lead to diplomatic freeze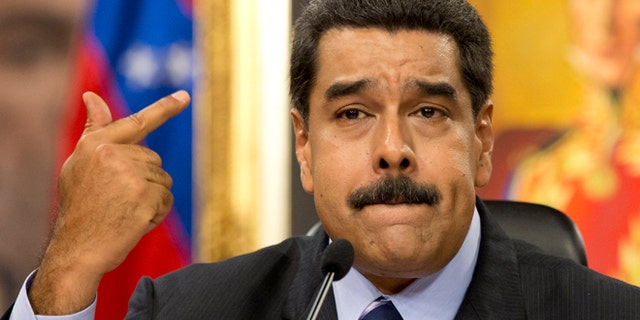 A war of words has erupted between Venezuela and Paraguay that has led to the freezing of relations between the two South American nations.
Venezuela's Foreign Minister Delcy Rodríguez slammed Paraguay over the weekend for "bold threats" her Paraguayan counterpart made following his announcement that there would be a "total freezing of relations" between the two countries.
Paraguay's Eladio Loizaga said on Friday that he would not return to the Venezuelan capital of Caracas following a series of what he called "rants" by Venezuelan President Nicolás Maduro.
In response to Loizaga's comment, Rodríguez tweeted: "Venezuela does not allow itself to be threatened nor will it succumb to fear from those who choose to serve the empire rather than the people … (Loizaga's) bold threats ... insult our heritage of independence and freedom."
The animosity between the two nations appears to have begun earlier this month when Maduro complained that Venezuela was being "persecuted" by "a corrupt Paraguayan oligarch and drug trafficker," apparently in reference to Paraguayan President Horacio Cartes.
Venezuela, which is suffering through a period of political and social upheaval paired with a crumbling economic situation thanks to the fall in global oil prices, has come under fire from numerous countries in Latin America. The Maduro government has been accused of failing to comply with the region's Democratic Charter and of being an authoritarian dictatorship.
The complaints from countries like Brazil and Paraguay come as a summit of the regional trade bloc, Mercosur, is slated to begin on Tuesday. A proposal is up for vote at the summit in Montevideo, Uruguay, that would allow Venezuela to share the presidency of the bloc with another nation, but this has been vehemently opposed by a number of Mercosur members.
On July 30, Venezuela said that it had assumed the presidency of Mercosur – although Paraguay, Argentina and Brazil rejected its assuming that position given that Venezuela has failed to comply with a number of Mercosur norms, including the bloc's human rights standards and tariff regulations. Uruguay said it was in favor of maintaining the current order and letting Venezuela take over the presidency.
"There are no sanctions contemplated for those who do not meet these norms. Nobody had predicted this situation or a collective presidency of Mercosur," Uruguay's Foreign Minister Rodolfo Nin Novoa said. "The situation is complex. We want Mercosur to work, we do not want paralysis."
Like us on Facebook
Follow us on Twitter & Instagram