Volkswagen Moves Golf Production into Mexico in Bid to Capture US Market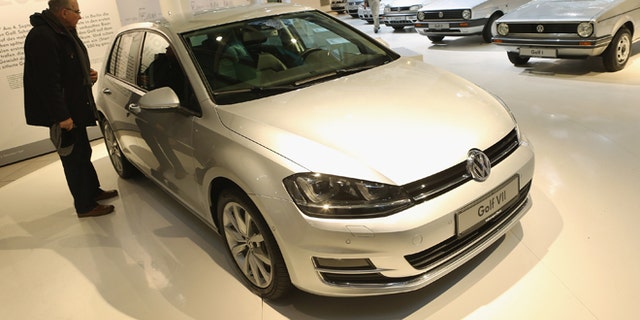 A plant in Mexico made famous for producing the iconic Volkswagen Beetle will once again start churning out another of the German car manufacturer's famed rides…the Golf.
In a ploy to grab some of the market share in North America, Europe's largest car maker announced Friday plans to build its popular Golf model at its plant in the city of Puebla. Golfs built at the Mexican plant will be sold in South and North America, where the company has fallen behind its competitors in a packed compact car market.
"Volkswagen has ambitious growth plans, and localizing production is crucial for these plans to work out," Daniel Schwarz, a Commerzbank AG analyst in Frankfurt, told Bloomberg. "You can't be successful in the mass-market segment if you only import cars."
The Mexico move is part of a larger three-year, $5 billion plan to make Volkswagen the largest automobile manufacturer in the world. Mexico, with its low labor costs and protection between unfavorable currency fluctuations between the dollar and euro, is part of Volkswagen's strategy in the Western Hemisphere.
"With its existing infrastructure, competitive cost structures and free-trade agreements, Mexico is the ideal location to produce the Golf for the American market," Hubert Waltl, the head of production at VW's passenger car brand, said Friday in a statement.
While Volkswagen has made deep inroads in countries like China, Brazil, Russia and its home base of Western Europe, it still struggles in the crowded U.S. market, where it lags behind General Motors and Toyota.
The Passat, a mid-sized sedan whose sales surged 31 percent to 580,200 cars last year, has encouraged Volkswagen to put more effort to the Golf on the U.S. market. The small hatchback is a keystone car for the company, which also owns Audi, Skoda and Seat vehicles.
Besides the Puebla plant, Volkswagen will add additional shifts at its plant in Wolfsburg, Germany to meet the demand for the orders of the Golf, which are expected to exceed 100,000 this year.
Follow us on twitter.com/foxnewslatino
Like us at facebook.com/foxnewslatino