Verdict in trial of Al-Jazeera journalists in Egypt expected June 23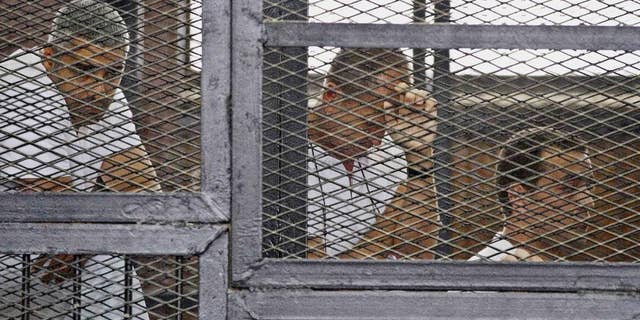 CAIRO – The trial in Egypt of three Al-Jazeera English journalists and 17 others was adjourned Monday until next week, when the judge will deliver the verdict five months after the trial opened, Egypt's state news agency said.
The case is the first prosecution of journalists on terrorism-related charges in Egypt. Authorities have accused them of providing a platform for the Muslim Brotherhood, which Egypt has declared a terrorist organization. The trial has sparked an outcry among journalists and rights groups, who say the reporters were only doing their job.
Canadian-Egyptian Mohammed Fahmy, Australian Peter Greste and Egyptian Baher Mohammed have been in detention since Dec. 29. Six journalists, including three foreigners, were tried in absentia. Prosecutors have shown footage of pro-Brotherhood protests and videos of life in Egypt as evidence.