Venezuela's ruling party stacks Supreme Court weeks before opposition takes office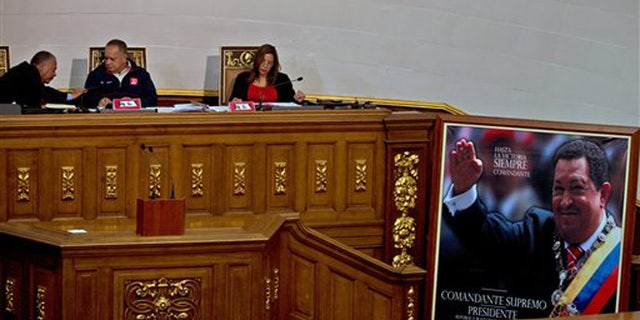 CARACAS, Venezuela (AP) – Venezuela's lame duck congress gave initial approval Tuesday to the appointment of 13 Supreme Court justices in a move that the opposition says seeks to undermine its landslide victory in this month's legislative elections.
The government-controlled National Assembly approved the candidates in its first debate late Tuesday. Two more debates and votes remain for final approval.
At the end of Tuesday night's session, Assembly President Diosdado Cabello announced that lawmakers had approved the appointments, but without the two-thirds of the votes needed, meaning two more debates would be held Wednesday.
The appointments would fill vacancies left by justices who retired early rather than risk a balancing of the staunchly pro-government high court, and the opposition denounced the move.
Opposition candidates won 112 of the assembly's 167 seats in elections, giving them a "supermajority" to challenge the socialist administration of President Nicolas Maduro. But they have yet to take their seats, and in the current congress, the government bloc has 99 seats to the opposition's 65.
Maduro has vowed to defy the dictums of what he calls the incoming "bourgeois congress."
Meanwhile, Venezuela's Supreme Court denied that electoral officials had received a petition this week to annul the election of opposition lawmakers in 22 districts.
Government opponents had decried as a "judicial coup" what it said was the court's decision to study the petition.
The high court "has not received any legal action this week seeking to impugn the results of the parliamentary elections held last Dec. 6 in Venezuelan territory," the court said in a statement.
Like us on Facebook