Venezuelan officials break up protesters' camps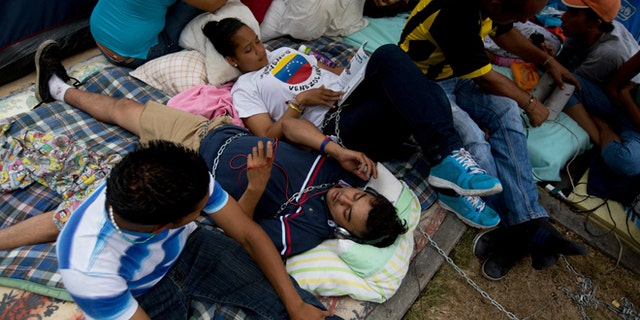 CARACAS, Venezuela – Hundreds of National Guard members and police broke up four camps maintained by student protesters and arrested 243 people in an early morning raid, Venezuelan officials said Thursday.
The camps consisting of small tents were installed more than a month ago to protest against the government of President Nicolas Maduro.
Venezuela's Interior Minister Miguel Rodriguez Torres said the tent cities were dismantled earlier in the morning.
Rodriguez Torres told state television that the 243 people who were arrested would appear in court in the coming hours.
The move was announced just hours before top opposition leader Leopoldo Lopez, who's been in a military prison outside Caracas since February, is scheduled to be in court for a hearing on whether he should begin trial on charges stemming from the anti-government protests or whether he should be freed.
The latest clashes also come as the U.S. Congress moves closer to imposing economic sanctions against Venezuela's leaders.
State Department officials will brief a Senate committee Thursday on the violent street protests that have rocked the country for weeks, and a House panel will finalize its version of a sanctions bill Friday.
The legislation in both chambers is relatively modest. It centers on $15 million in new funds to promote democracy and rule of law in the South American country. It bans visas for Venezuelan officials who crushed anti-government protests by students, opposition leaders and others and freezes their assets.
The South American country has been roiled since February by demonstrations that have killed 41 people on all sides, and left another 785 injured. At least 2,200 people have been arrested in connection with the protests over the last few months.
Maduro's administration has grown increasingly fed up with the demonstrations and last week announced that it had arrested 58 foreigners, including an American, on suspicion of inciting violent street protests against the government. Both Maduro and Rodriguez Torres have denounced what they describe as a plot to promote unrest aimed at overthrowing the administration.
Opponents have repeatedly rejected the government's frequent allegations about coup attempts, calling them an effort to distract attention from the country's problems. They say the protests arise from widespread discontent with 57 percent inflation, record shortages and authoritarian practices.
In Washington, U.S. Sen. Marco Rubio, R-Fla., a sponsor of the sanctions legislation in the Senate, said the message that penalties would carry is important. The move comes as human rights groups accuse Venezuelan security officials of arresting, torturing and even killing unarmed demonstrators.
"This is happening in our very own hemisphere," Rubio said in a telephone interview with The Associated Press. He said sanctions should target anyone responsible for human rights violations, refusing to rule out Maduro as a potential target.
Action now would show the U.S. is "firmly on the side of the democratic aspirations of the Venezuelan people," Rubio said.