Venezuelan Anti-Government Protests Turn Violent, One Demonstrator Dead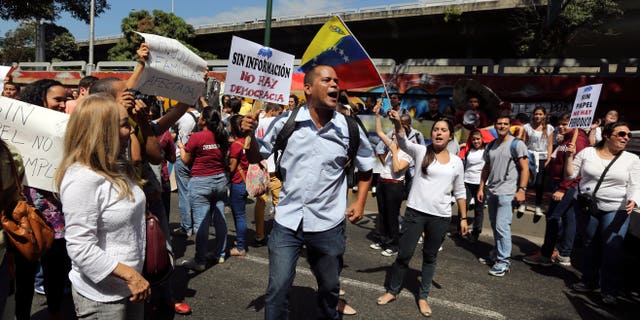 A demonstrator died in Caracas Wednesday when Venezuelan security forces were trying to break up a crowd of violent activists following the largest protests yet against President Nicolas Maduro's government.
The president of the National Assembly, Diosdado Cabello, said the victim was the leader of a pro-government group and blamed the opposition, saying the death was a result of a "provocation from the right."
A group of about 100 mostly student demonstrators, many of them covering their faces, launched fragments of concrete sidewalks at riot police guarding the streets around the federal prosecutor's office in Caracas.
On the other side of the police corridor, pedestrians scattered as a group of black-shirted government supporters on the back of pick-up trucks and motorcycles sped through downtown streets.
The unrest capped off a day of peaceful demonstrations organized by hard-line members of the opposition and it comes on the heels of two weeks of increasingly violent protests by students in several parts of the country.
Pro-government supporters countered with a march of their own to express support for Maduro, who has accused opponents of trying to violently oust him from power just two months after his party's candidates prevailed by a landslide in mayoral elections.
While anti-government demonstrators vented frustration over issues ranging from rampant crime to mounting economic hardships, they were united in their resolve to force Maduro out of office by constitutional means.
"All of these problems — shortages, inflation, insecurity, the lack of opportunities — have a single culprit: the government," Leopoldo Lopez, a Harvard University-trained former mayor, told a crowd of about 10,000 people gathered at Plaza Venezuela in Caracas.
Lopez, who leads a faction of the opposition that has challenged what it considers the meek leadership of two-time presidential candidate Henrique Capriles, called the protests "a moral and patriotic duty."
"If we don't do it now, then when? And if it's not us, who will?," he said.
The crowd then marched to the prosecutor's office to demand the release of 13 demonstrators that human rights groups say were illegally arrested during the past two weeks of protests.
A smaller group of mostly students lingered after most demonstrators went home, setting fire to trash and ripping apart steel grating in anticipation of a clash with police and national guardsmen. At least one person a few blocks from the incident was wounded with head injuries.
Across town, Maduro told his supporters that he won't back down in the face of what he said is a conspiracy by opponents to provoke violence and destabilize his government.
"A Nazi-fascist faction has emerged that wants to take Venezuela down the path of violence," the 51-year-old former bus driver said. "What we're going to have is peace and prosperity."
Protests also took place on Wednesday in other cities, including Merida and San Cristobal, where students have clashed with police in recent days.
Merida's Mayor Carlos Garcia told the AP that three people were injured by gunfire in protests Tuesday after a group of hooded government supporters began firing into the crowd. Maduro on Wednesday acknowledged the incident, but told supporters that those responding to the opposition's violent provocations aren't true revolutionaries.
Based on reporting by The Associated Press.
Follow us on twitter.com/foxnewslatino
Like us at facebook.com/foxnewslatino