Venezuela says feces bombs launched in protests are 'biochemical weapons'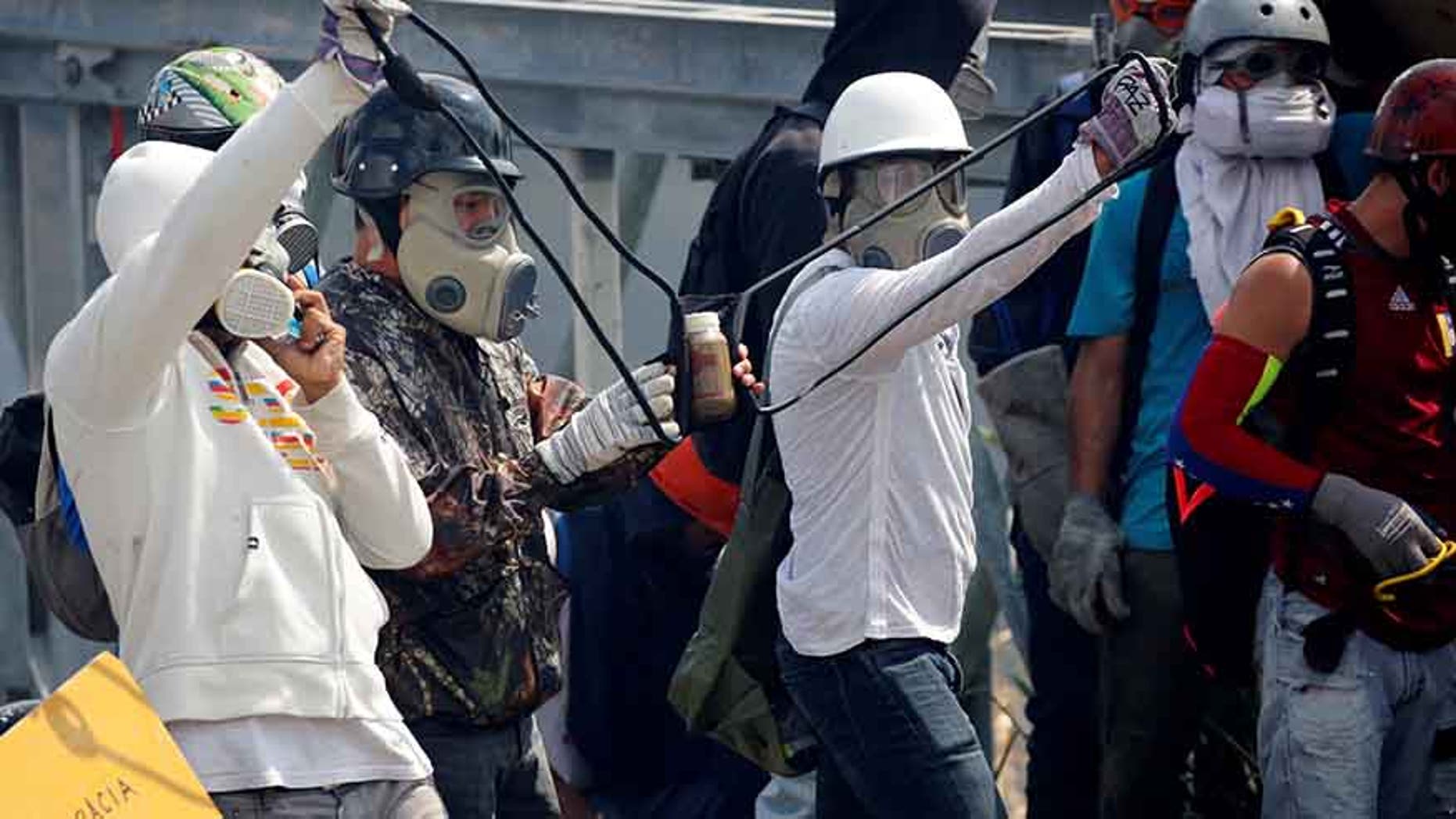 The Venezuelan government is accusing the opposition of breaking international treaties on biological and chemical weapons by throwing feces during the increasingly violent street protests across the country.
Many demonstrators have started carrying so-called "Poopootov cocktails" – feces stuffed into small glass bottles – they throw when National Guard troops block their path with tear gas and water.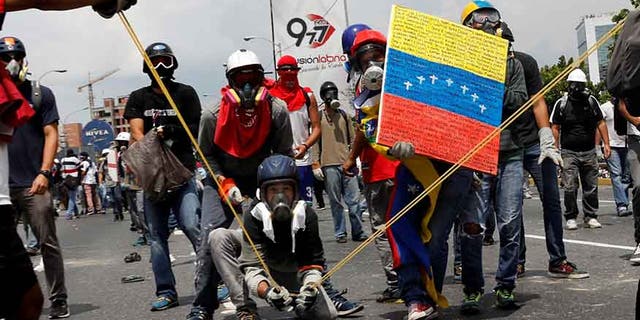 During an interview Wednesday night on state television, Courts Inspector General Marielys Valdéz called the new "bombs" biological weapons.
"It is a biological weapon ... The use of biochemical weapons is a crime, it is completely typified, and it carries high penalties," she said.
"The use of these weapons, including feces, has consequences because they can affect the waters and sectors of an area," she added. "It affects not only the person targeted, but over time it can spread and cause disease."
TRUMP COULD SAVE VENEZUELA. HERE'S HOW
Extraordinary scenes of flying feces were seen again Wednesday on the main highway through Caracas, as thousands of opposition supporters poured onto the streets decrying Venezuela's economic crisis and demanding elections.
"There's nothing explosive here. It's our way of saying, 'Get lost Maduro, you're useless!'" said one young protester, who asked not to be named, between tossing bottles of feces.
"These kids live in a dictatorship, they have no other option but to protest however they see fit," said Maria Montilla, 49, behind lines of youths with masks, slingshots and makeshift wooden shields.
Dozens of people were injured throughout the day and 27-year-old Miguel Castillo, a popular student activist, was killed in unclear circumstances.
Authorities also announced that Anderson Dugarte, 32, died from a gunshot wound he suffered Monday at a protest in Merida.
VENEZUELA INCREASINGLY ISOLATED AS IT ANNOUNCES WITHDRAWAL FROM OAS
At least 39 people have died in the unrest since early April, including protesters, government sympathizers, bystanders and security forces. Hundreds have been hurt and arrested.
President Nicolas Maduro says foes are seeking a coup with U.S. encouragement.
The opposition, which enjoys majority support after years in the shadow of the ruling Socialist Party, says authorities are denying a solution to Venezuela's crisis by thwarting a referendum, delaying local elections and refusing to bring forward the 2018 presidential vote.
Maduro is seeking to create a new super body called a "constituent assembly," with authority to rewrite the constitution and shake up public powers. Foes dismiss it as an attempt to keep the socialists in power by establishing a biased new assembly.
"They closed all the democratic doors, we warned how dangerous that would be for our country," said opposition leader Henrique Capriles, joining protesters on the highway.
Reuters contributed to this report.