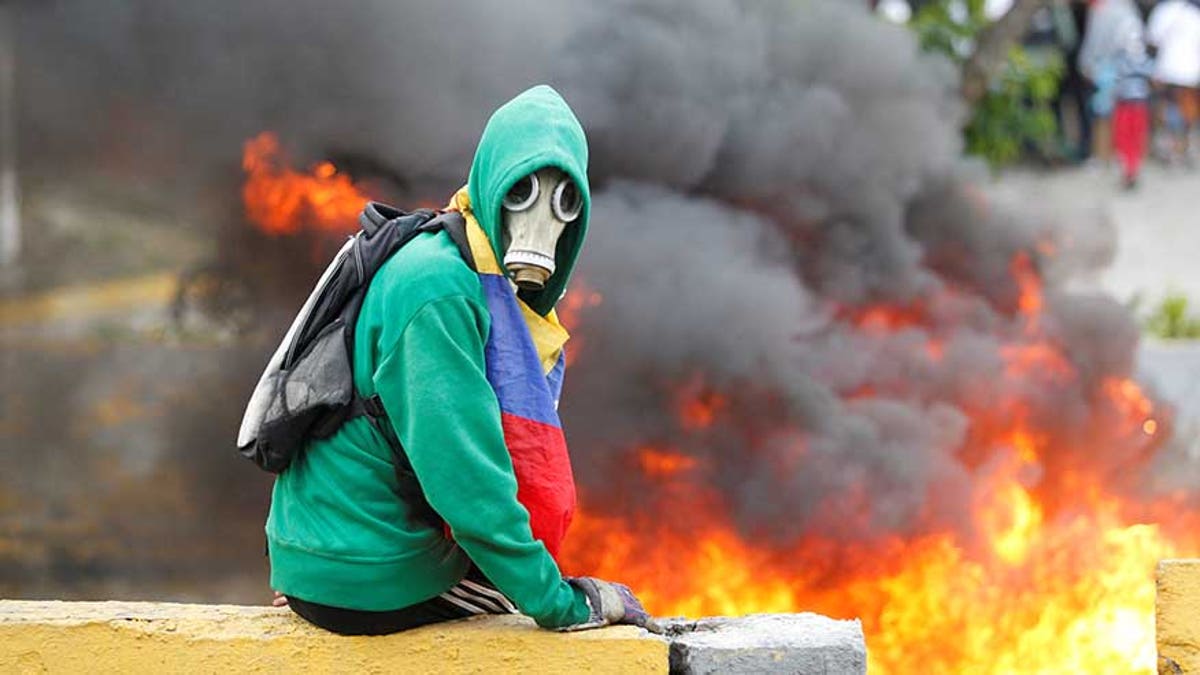 CARACAS – The Venezuelan Attorney General's Office is investigating an incident during which the Caracas chief of police suffered a gunshot wound in the leg.
Before daybreak Tuesday, Police Chief Robinson Antonio Navarro Acosta was shot while patrolling near the Guarataro neighborhood, where security forces had been dispersing a demonstration.
FEARS OF MILITARY-GRADE WEAPONS IN WRONG HANDS AMID VENEZUELA UNREST
The number of deaths since protests against the socialist government of Nicolas Maduro started a month ago rose to 26 later in the day, after 23-year-old Orlando Medina died instantly from a gunshot to the head in the western state of Lara.
Fifteen people have died in violence around demonstrations and 11 others in night-time lootings.
Political activists and Venezuelan media have reported more deaths, but those have not been confirmed.
VENEZUELA'S MADURO TO PROVIDE GUNS TO 400,000 LOYALISTS AMID PEAKING TENSION
With near-daily demonstrations by both opponents and supporters of Maduro, there have been fatalities on both sides, as well as one National Guard sergeant killed during a protest.
The prosecutor's office did not specify the political allegiance of Tuesday's victim, though media in Lara said he was an opposition sympathizer.
"Any death hurts, government or opposition," chief state prosecutor Luisa Ortega said in a speech. He said that four fatalities were adolescents and 437 people had also been injured.
The ruling Socialist Party accuses foes of seeking a violent coup with U.S. connivance, while the opposition says Maduro is a dictator repressing peaceful protest.
The opposition's main demands are for elections, the release of jailed activists and autonomy for the opposition-led legislature. But protests are also fueled by a crippling economic crisis in the oil-exporting nation of 30 million people.
The unrest is Venezuela's worst since 2014, when 43 people died in months of mayhem sparked again by protests against Maduro, the 54-year-old successor to late leader Hugo Chavez.
Nearly 1,500 people have been arrested, with 801 still detained as of Tuesday, rights group Penal Forum said.
Trying to keep the pressure on Maduro, the opposition Democratic Unity coalition is planning a march on Wednesday toward downtown Caracas. Past attempts to reach that area have been blocked by security forces using teargas and rubber bullets against masked youths hurling stones and Molotov cocktails.
Thousands of red-shirted Maduro supporters marched in the state of Falcon on Tuesday, chanting pro-government slogans and denouncing the opposition for violence.
"They call themselves defenders of human rights but then they murder people. They're the same as 2002," Socialist Party No. 2 Diosdado Cabello told the crowd, referring to a short-lived coup against Chavez that year.
EFE and Reuters contributed to this report.