Venezuela Election: Chavez's Military Loyalty Tested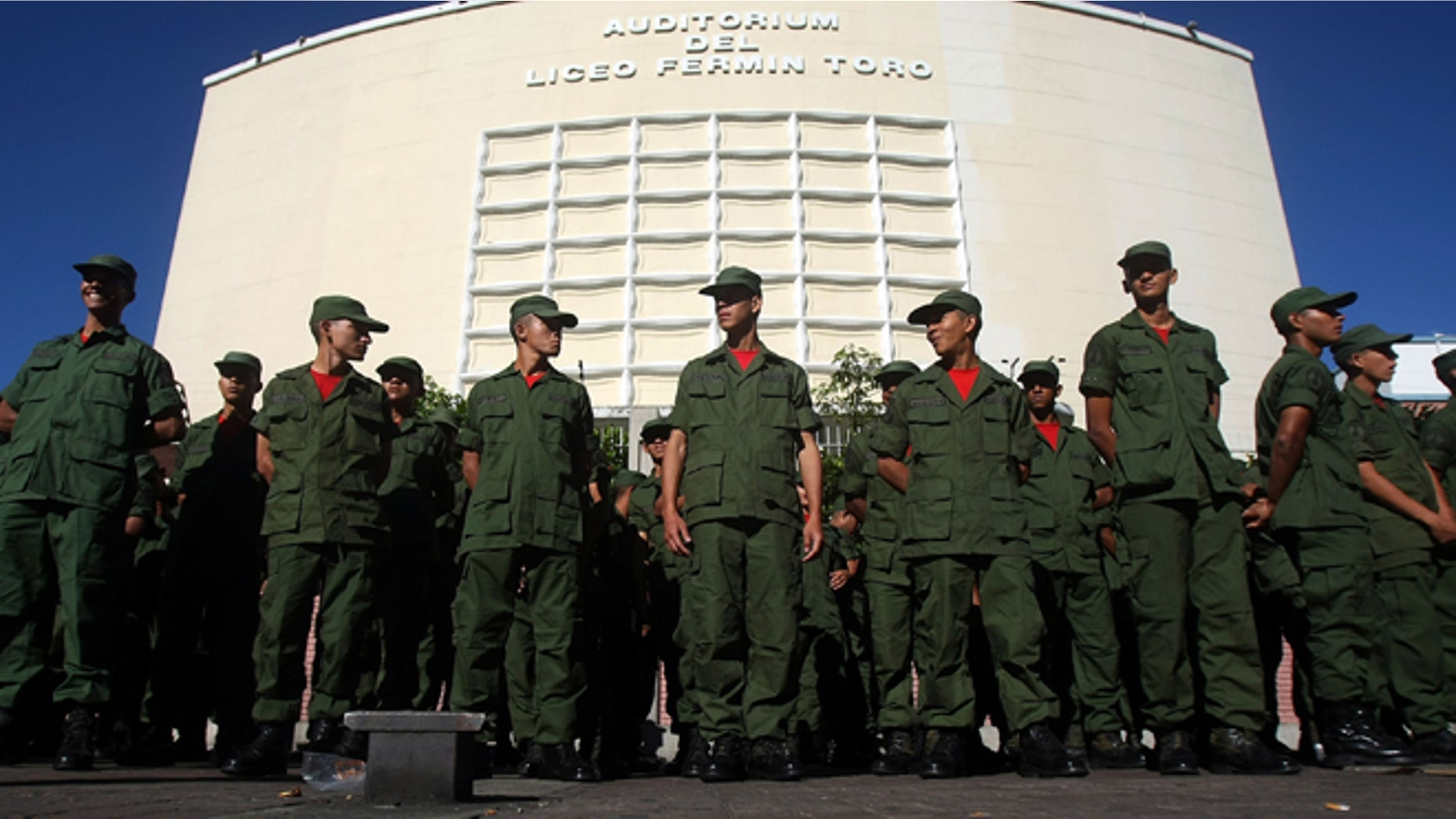 Caracas, Venezuela – Venezuela's close presidential election has the nation's military caught in the crosshairs, as experts question whether a Hugo Chávez led military would support opposition presidential candidate Henrique Capriles if he were to win on October 7.
The military has entered the political discourse days before Venezuela's election, prompted by  the defense minister's claim that Capriles plans to "dismantle" the country's armed forces.
Gen. Henry Rangel Silva made the argument Tuesday in a TV interview, after Capriles announced that an active general had agreed to be his defense minister. Capriles didn't name the general, but Rangel said he didn't believe any Venezuelan general would betray President Hugo Chávez's socialist government by accepting the appointment.
"He (Capriles) says he is going to appoint an active general as his Defense Minister (…) How can he say he is going to appoint an active general when his government plans to dismantle the Armed Forces?" Rangel said in Spanish, as quoted by Venezuelan newspaper El Nacional. "I don't think there is one single active general willing to dismantle the Bolivarian Armed Forces."
Venezuela's military is constitutionally neutral but Chávez has packed its leadership with loyalists. That has raised questions about whether the armed forces would stay put if the results of Sunday's elections end up jeopardizing Chavez's rule.
Retired general and former defense minister Fernando Ochoa Antich, a strong Chávez opponent, said General Rangel's claims are 'extremely serious" and 'threaten the country's institutionalism.'
"Does this mean that if Capriles wins, the Venezuelan Armed Force will not acknowledge his victory?" Ochoa Antich said in Spanish. "I don't think the military institution would go along with such an adventure."
Experts remain unsure themselves over how much of Venezuela's 115,000 military and national guard personnel are made up of so-called Chávez loyalists.
"The military remains pretty professional especially at the low level and mid level ranks, and should back whoever wins," said Adam Isaccson, senior associate for Regional Security at the Washington Office of Latin America, to Fox News Latino.
But concern over violence and unrest after an election in Venezuela has never been higher. Right-leaning Capriles is Chávez's toughest challenger in the 14 years he's been in power. Polls indicate a dead-heat race, as the Chávez campaign has had to deal with national doubts over his health, a fledgling economy and an increase in crime.
Barring a commanding win, both candidates are sure to challenge the results of the election and that has experts like Isaccson concerned about a Venezuelan military that may have to confront a heavily armed civilian population in the streets -the citizen militias that so far have been mostly supportive of Chávez.
"Ultimately, the electoral tribunal is going to have to decide on a winner," he said. "And the military is going to have to back that decision, but they maybe confronting a huge portion of the population."
Leading the more heavily armed citizen population, Isaccson said, are Venezuela's citizen militias who could clash with the professional military if presidential election results are disputed.
"The biggest concern is 150,000 citizen militia members that Chávez has setup all around the country that are pretty overtly politicized," Isaccson told Fox News Latino. "They are armed and they have some training."
Venezuela's Military Prowess
Defense spending has actually gone down under Chávez. Defense spending accounted for about 1.1% of its GDP, on average, from 2007 to 2011, compared to about 1.5% from 1994-1998, the five years preceding Chávez's rise to the presidency, according to figures from the World Bank.
Venezuela maintains about 115,000 military personnel on active duty, including the National Guard, according to Military Periscope.
Since 2006, the U.S. has labeled Venezuela as not fully cooperative on anti-terrorism, an action that bans the sale or license of U.S. defense articles or services to Venezuela.
Venezuela has about 20 U.S. built F-16 fighters and, according to a Reuters report, have fallen into disrepair. The president has used this as an argument in turning to Russia and China for new equipment.
Russia has been by far Venezuela's largest arms supplier over the past five years (2007-2011), delivering more than $2 billion during that time, followed by Spain at $259 million and China at $218 million, according to the Stockholm International Peace Research Institute. Weapons delivery totals differ from purchase agreements, which can be spread across several years.
From 2005-2009, Venezuela agreed to purchase more than $6 billion of arms from Russia, including at least 24 Sukhoi Su-30 fighter jets, 50 military helicopters, 100,000 Kalashnikov assault rifles, a license to build a factory to produce Kalashnikov rifles in Venezuela, and several submarines, according to the Congressional Research Service.
With additional reporting by The Associated Press.
Follow us on twitter.com/foxnewslatino
Like us at facebook.com/foxnewslatino