A U.S. warship sailed Sunday near two contested Chinese man-made islands in the South China Sea, the location where Beijing has built up military fortifications despite a pledge not to do so, a U.S. defense official told Fox News.
The "guided-missile destroyer USS Decatur (DDG 73) conducted a freedom of navigation operation in the South China Sea to uphold the rights and freedoms of all states under international law. Decatur sailed within 12 nautical miles of Gaven and Johnson Reefs in the Spratly Islands," the U.S. official, who declined to be identified, said in a statement.
It's not immediately clear how Beijing will respond. Normally, American warships have been shadowed by Chinese spy ships during similar operations in the past in addition to fighter jets.
The latest military operation -- which the Pentagon calls "routine" freedom of navigation maneuvers -- comes days after a series of actions between global powers.
The U.S. military last sailed a warship within 12 nautical miles of a contested Chinese island in May, the internationally recognized territorial boundary. By sailing a warship inside that boundary, the U.S. rejects the claim, a view shared by most of the international community. The news of the action was also reported by The Wall Street Journal.
The transit by the American destroyer Sunday follows a series of diplomatic standoffs between world powers.
CHINA SAYS CARRIER GROUP REACHES 'INITIAL' COMBAT CAPABILITY
Last week, China announced it would not allow a large U.S. warship to visit Hong Kong next month. On Wednesday, the U.S. Air Force flew nuclear-capable bombers near China in the East China Sea, which Beijing called "provocative" despite flying in international airspace. China also yanked its top admiral from Newport, R.I., last week days before he was set to meet his American counterpart.
Recent tensions come as the Trump administration has slapped additional sanctions on $200 billion in Chinese goods in recent days and taken the additional steps to sanction China over its purchase of Russian fighter jets and advanced surface-to-air missiles.
Last week, U.S. Defense Secretary Jim Mattis played down the recent disputes with China.
"It's international waters, folks. It's international waters," Mattis said about the B-52 bomber flight and other recent "freedom of navigation operations" by other U.S. warships.
"If it was 20 years ago and they had not militarized those features there, it would've just been another bomber on its way to Diego Garcia or whatever, Mattis added. "There's nothing out of the ordinary about it."
In the Rose Garden outside the White House in 2015, China's President Xi pledged his country would not militarize the man-made Islands Beijing had built atop former reefs. Since then, China has deployed surface-to-air missiles to some of the islands, a move which some U.S. officials concede could one day affect U.S. military flight plans.
RECENT DEVELOPMENTS SURROUNDING THE SOUTH CHINA SEA
At the United Nations last week, President Trump accused China of meddling in the upcoming midterm elections in November.
"They do not want me or us to win because I am the first president ever to challenge China on trade. We are winning on trade. We are winning at every level," Trump said at a U.N. Security Council meeting with Chinese Foreign Minister Wang Yi seated nearby.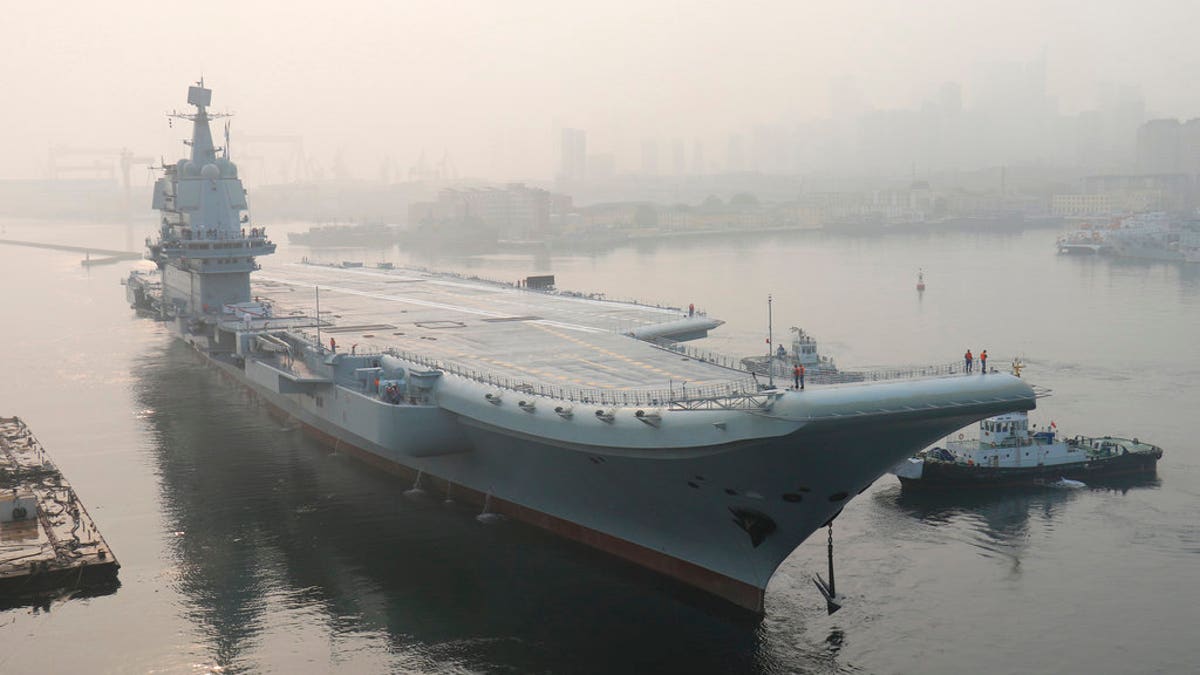 In his annual address to the U.N. General Assembly, Trump said China's trade policies "cannot be tolerated" anymore.
"We have racked up $13 trillion in trade deficits over the last two decades, but those days are over. We will no longer tolerate such abuse, we will not allow our workers to be victimized, our companies to be cheated and our wealth to be plundered and transferred."
Two years ago, the U.S. military accused their Chinese counterparts of stealing two American underwater drones in the South China Sea as the U.S. Navy operated them from a short distance away. The Chinese returned the drones weeks later in boxes.
Despite the recent diplomatic flareups, the Trump administration has counted on China to help enforce sanctions on North Korea in a bid to get Kim Jong Un to scrap his nuclear weapons program.