US: Separatists in eastern Ukraine have weapons, military equipment from Russia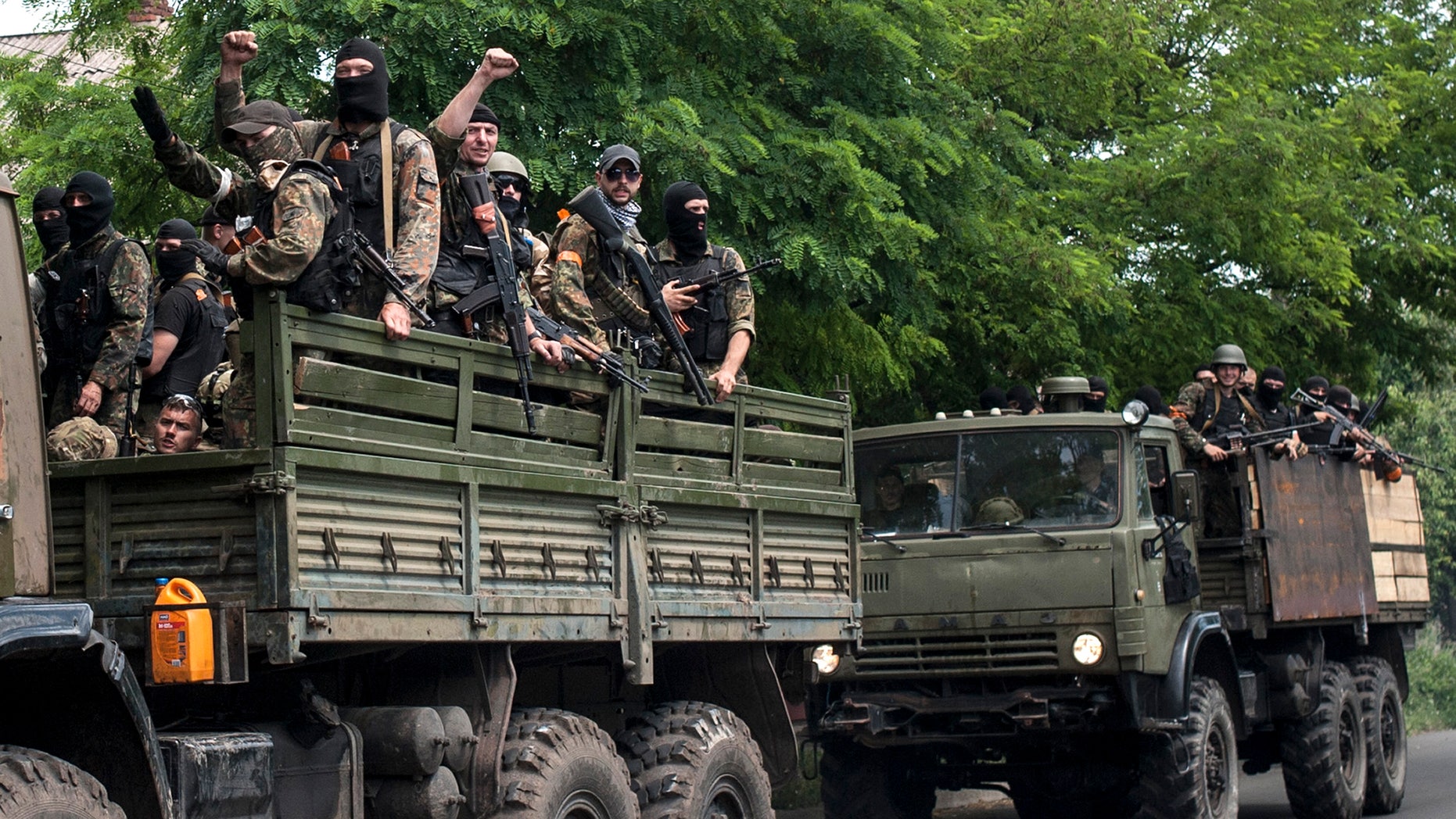 KIEV, Ukraine – Separatists in eastern Ukraine have acquired heavy weapons and military equipment from Russia, including Russian tanks and multiple rocket launchers, the State Department said Friday.
"We have information that Russia has accumulated tanks of a type no longer used by Russian forces at a deployment site in southwest Russia, and some of these tanks recently departed," said spokeswoman Marie Harf.
Her remarks came as Ukrainian troops attacked pro-Russia separatists Friday in the southern port of Mariupol, apparently driving them out of buildings they had occupied in the city.
About 100 soldiers emerged triumphant from the previously rebel-occupied buildings, shouting the name of their battalion, Azov, and singing the Ukrainian national anthem. They also destroyed an armored vehicle and a heavy truck used by the separatists, leaving the vehicles scorched and riddled with large-caliber bullet holes.
Harf quoted Ukraine's interior minister as saying three tanks crossed the border from Russia Thursday. "Internet videos showed this same type of tank that departed southwest Russia moving through multiple cities in eastern Ukraine, including Snizhne, Torez, and Makiyivka," she said.
"Russia will claim these tanks were taken from Ukrainian forces, but no Ukrainian tank units have been operating in that area. We are confident that these tanks came from Russia.
"We also have information that Russia has accumulated multiple rocket launchers at this same deployment site in southwest Russia, and these rocket launchers also recently departed. Internet video has shown what we believe to be these same rocket launchers traveling through Luhansk," she added.
Ukraine Interior Minister Arsen Avakov said four government troops were wounded in what he called a successful operation in Mariupol. Witnesses said they saw troops capture at least four separatist fighters. There was no immediate word of casualties on the rebel side, and Associated Press journalists at the site were blocked from entering the buildings.
Ukraine and the West have accused Moscow of fomenting the unrest in eastern Ukraine and supporting the separatist fighters. Russia, however, has denied sending troops or weapons to Ukraine and has described the Russian citizens fighting with the separatists as volunteers.
Russia has not commented on the tanks, but its border guard service said two Ukrainian armored vehicles crossed the border in the opposite direction Friday, into Russian territory near the southern city of Rostov-on-Don. Russian news agencies quoted a spokesman for the border guard service as saying that the Ukrainian troops were able to return to Ukraine but left behind one of the vehicles after it apparently broke down.
The Associated Press contributed to this report