US sends small number of advanced weapons to Syrian rebels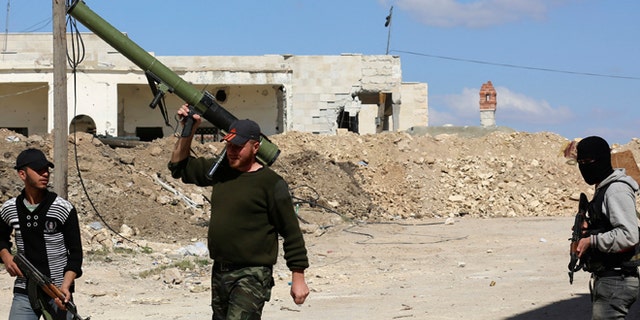 NEWYou can now listen to Fox News articles!
The U.S. and Saudi Arabia have supplied Syrian rebel groups with a small number of advanced American antitank missiles for the first time in a pilot program that could lead to larger flows of sophisticated weaponry, people briefed on the effort said.
The new willingness to arm these rebels comes after the failure of U.S.-backed peace talks in January and recent regime gains on the battlefield. It also follows a reorganization of Western-backed fighters aimed at creating a more effective military force and increasing protection for Christian and other religious minorities—something of particular importance to Washington.
This shift is seen as a test of whether the U.S. can find a trustworthy rebel partner able to keep sophisticated weapons out of the hands of extremists, Saudi and Syrian opposition figures said. The U.S. has long feared that if it does supply advanced arms, the weapons will wind up with radical groups—some tied to al Qaeda—which have set up bases in opposition-held territory.
The White House would neither confirm nor deny it had provided the TOW armor-piercing antitank systems, the first significant supply of sophisticated U.S. weapons systems to rebels. But U.S. officials did say they are working to bolster the rebels' ability to fight the regime.
Rebels and their Saudi backers hope the Obama administration will be persuaded to ease its long-standing resistance to supplying advanced weaponry that could tip the balance in the grinding civil war—especially shoulder-fired missiles capable of bringing down planes.
Some of the TOWs provided to rebels since March are equipped with a complex, fingerprint-keyed security device that controls who can fire it, said Mustafa Alani, a senior security analyst at the Geneva-based Gulf Research Center who is regularly briefed by Saudi officials on security matters.
Click for more from The Wall Street Journal.