US ex-porn star in Brazil to promote new erotic book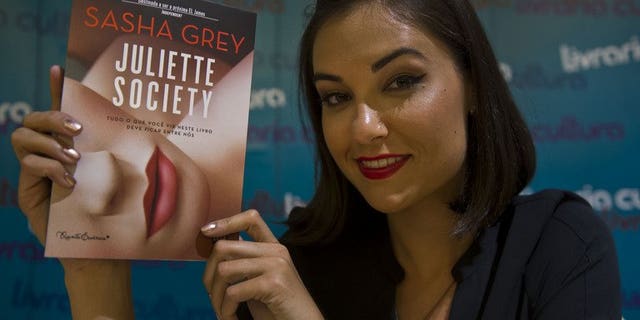 SAO PAULO, Brazil (AFP) – With her first erotic novel, out in Brazil this week, US ex-porn star Sasha Grey says she aims to forge a new path in literature while promoting women's self-empowerment.
The 25-year-old was mobbed by 1,000 fans Wednesday at a launch in Sao Paulo for "The Juliette Society," -- a book she hopes will emulate the success of "50 Shades of Grey," the 2011 erotic romance novel by British author E.L James.
20th Century Fox has already bought the rights to turn the book into a movie.
The novel, already out in the United States and soon to be published in 40 countries, tells the story of Catherine, a seductive film student who discovers her sexuality in a club frequented by some of the world's most powerful people.
In the club, bankers, media barons, arms traffickers, decorated military officers and even high members of the Catholic clergy mingle to relax and satisfy their deepest and kinkiest sexual fantasies.
"Catherine enjoys being sexually dominated, but she knows how to take control and have the power," said Grey, a round-faced Californian whose real name is Marina Ann Hantzis.
"Like Catherine, I was a young woman with a lot of sexual fantasies," she added, arguing that the written word offers "a lot more creative freedom" than pornographic films.
Asked her views on feminism, the former pornstar told AFP: "I consider myself a self-empowered woman.
"Feminism is such a blurry, watered-down term. It is hard to define what that is," she said. "I want to help women with my book. It is fiction, but there are always elements that the readers can take to improve their self-esteem and self-confidence."
The 1.70-meter (5-foot-seven), black-haired Grey launched her career in adult films in Los Angeles just after turning 18.
Initially she toyed with the name Anna Karina, taken after the French New Wave actress, before deciding on her present name.
The name "Sasha" was borrowed from Sascha Konietzko of the band KMFDM and "Grey" represents Oscar Wilde's novel The Picture of Dorian Gray.
Outside pornography, she appeared in Steven Soderbergh's "The Girlfriend Experience" from 2009, and has had a variety of television roles.
In 2011, she quit the pornography business, saying she felt she had achieved all she wanted to. She tried to set up her own production company, but the project fell apart.