US disinvites China from military exercises after country continues 'militarization' of disputed island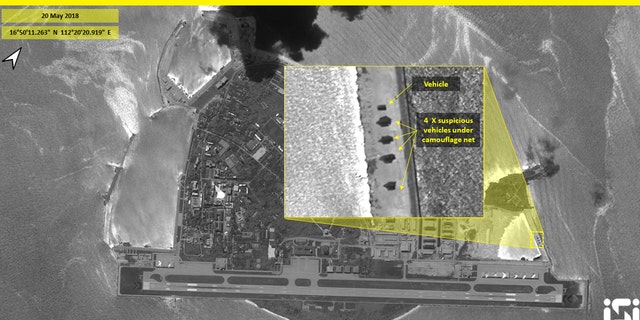 The Pentagon on Wednesday announced it was disinviting China from the Rim of the Pacific Exercises following reports the country was again secretly beefing up its military operation.
The move comes after Fox News exclusively reported that the Chinese military had deployed another advanced surface-to-air missile system to one of its contested islands in the South China Sea.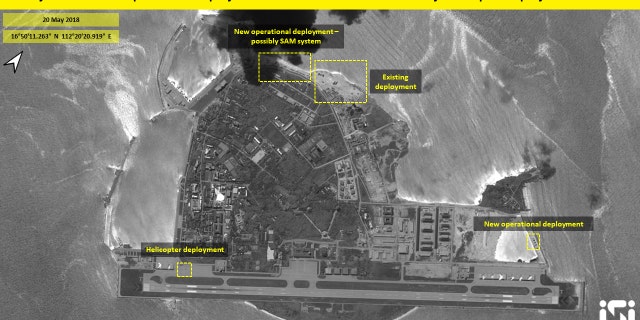 Satellite images taken on Sunday by ImageSat International show two new launchers on the northern shore of the Island, next to a radar system, all covered by a camouflage net.
The net is usually used to conceal stealthy activities that might interest other armies or security teams. It also makes it harder to identify what surface-to-air missile system it is. But ISI analysts think it's similar to the HQ-9 system that was deployed back in February 2016, and was first reported by Fox News. The HQ-9 air defense system, has a range of 125 miles, which would pose threat to any airplanes, civilians or military, flying close by.
EXCLUSIVE: CHINA SENDS SURFACE-TO-AIR MISSILES TO CONTESTED ISLAND IN PROVOCATIVE MOVE
ISI analysts believe that this provides further evidence that China is increasingly "militarizing" its islands in the South China Sea, ramping up tensions in the region that might undermine its strategic stability.
"The United States remains committed to a free and open Indo-Pacific. We have seen these same reports and China's continued militarization of disputed features in the South China Sea only serves to raise tensions and destabilize the region," said Marine Lt. Col. Christopher Logan, a Pentagon spokesman.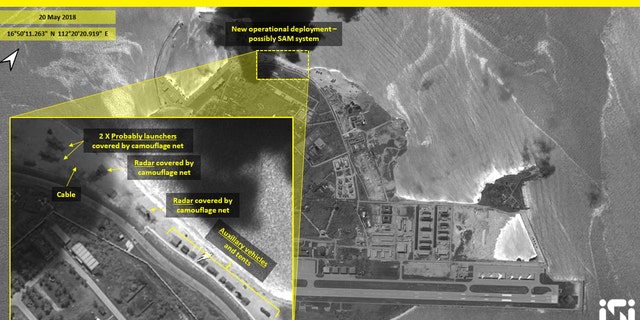 China participated in the 2014 and 2016 RIMPAC military exercises for the first time, which are held every two years and date back to the 1970s.
RIMPAC is slated to begin June 27 and last until August 2, according to officials.
Another image shows five suspicious cars, four of them under camouflage net, right next to the tarmac in the southern part of the island.
Last Friday, two days before these photos were taken, Chinese state media for the first time released a video showing a long-range nuclear-capable bomber landing on an island in the South China Sea, a move the Pentagon said raises tensions in the region years after China's president pledged not to militarize the disputed area.
"We have strong evidence that China has deployed anti-ship missiles, surface-to-air missile (SAM) systems, and electronic
jammers to contested features in the Spratly Islands region of the South China Sea," Logan said. "China's landing of bomber aircraft at Woody Island has also raised tensions."
A Washington think tank, CSIS, said the bomber landed on Woody Island.
Woody Island is the largest of the Paracel Islands in South China Sea, and is also claimed by Taiwan and by Vietnam.
Fox News' Lucas Tomlinson contributed to this report.