US airstrike in Somalia kills 5 Al-Shabaab fighters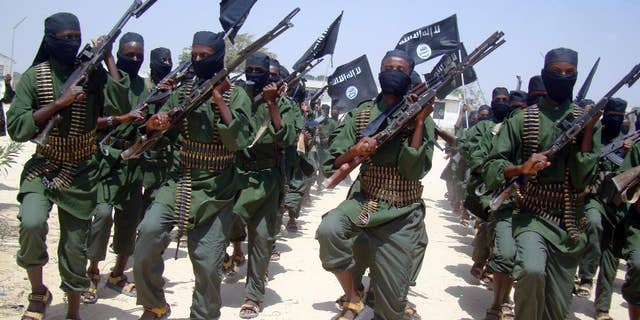 NEWYou can now listen to Fox News articles!
A U.S. airstrike in Somalia this morning killed five Al-Shabaab fighters after a team of Ugandan soldiers partnered with a small number of U.S. troops came under fire from more than a dozen Al-Shabaab militants, the Pentagon announced Thursday.
The strike unfolded in a rural area west of the capital city of Mogadishu, U.S. officials said.
U.S. forces were "very close" to the firefight between Ugandan soldiers and Al-Shabaab fighters, Pentagon spokesman Capt. Jeff Davis said. He declined to be more specific.
Davis said there were 50 U.S. troops on the ground in Somalia helping combat Al-Shabaab, an Al Qaeda-linked militant group that has waged a decade-long civil war in the country.
The terror group claimed responsibility for killing 148 people, mostly Christian students, at Kenya's Garissa University College in April 2015, as well as a slaughter at the Westgate Mall in Nairobi that left 67 people dead in 2013.
No Americans were wounded in the brief firefight, according to Davis. He would not say whether manned warplanes or drones carried out the strike. Typically, airstrikes in Somalia are carried out by drones, according to Davis.
Davis said the U.S. troops were supporting Ugandan troops in a raid to eliminate an illegal Al-Shabaab checkpoint on a road in the rural area west of Mogadishu.