Undocumented man back in U.S. after being deported arrested in fatal hit-and-run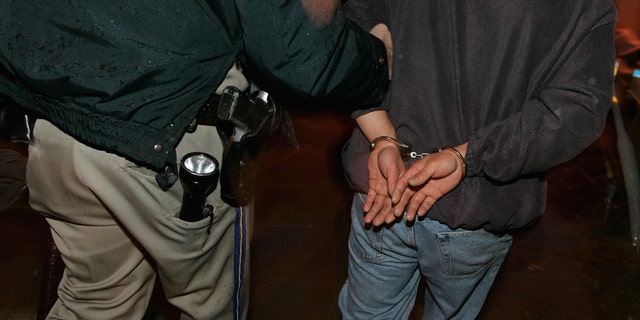 NEWYou can now listen to Fox News articles!
An undocumented immigrant who returned to the U.S. after being deported was arrested in connection to a hit-and-run accident that left one man dead.
The Douglas County Sheriff's Office arrested 28-year-old Edwin Elvir-Palma of Honduras and charged him with suspicion of reckless driving, fourth-offense felony DIU, and leaving the scene of an accident that resulted in injury or death, according to the Omaha World-Herald. Elvir-Palma had nearly three times the legal limit for alcohol, police said.
"(The) driver was very intoxicated, had difficulty speaking," Chief Deputy Tom Wheeler told local media.
Elvir-Palma also reportedly had no driver's license and is an undocumented immigrant from Honduras. He currently has an immigration hold.
"He had been deported on a previous occasion back to Honduras," Wheeler said. "And we matched his name up with the fingerprint cards that were on file with the FBI. Not sure which channels or routes he chose, but certainly he was back in the country."
The hit-and-run occurred last Saturday at about 2:30 a.m. when a vehicle crossed over the median and struck 34-year-old Margarito Nava-Luna as he walked westbound. Hours earlier, Nava-Luna and Elvir-Palma had been seen drinking at a local bar.
Police stopped Elvir-Palma shortly afterward and his SUV appeared to show evidence it hit Nava-Luna, officials said.
"It's certainly good fortune that the broadcast was put out that deputies were looking for this vehicle, obviously with the drunk driver even not knowing about what else was occurring," Wheeler said. "It was important to get this person off the street if they were drinking and driving."
The family of Nava-Luna, a father of three, has started a GoFundMe page to help them with expenses.
"Margarito came to work every day to support his wife and children," the GoFundMe page says. "Now that he's gone his family needs help with his funeral."