UN sex-abuse scandal: officials scramble amid claims of many more sordid incidents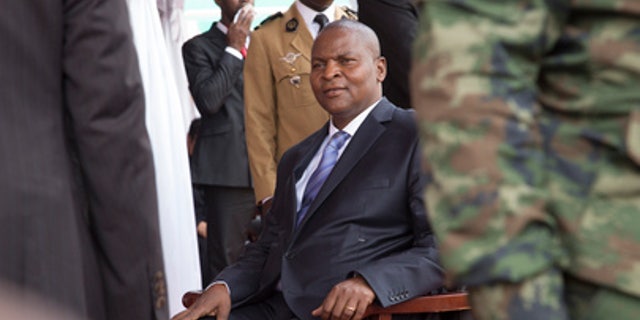 The ugly record of alleged rape and sexual abuse by international peacekeepers in the battered Central African Republic, one of the worst scandals to stain the United Nations in years, is growing much worse -- despite more U.N. assertions that it is moving aggressively to deal with the seemingly endless crisis.
According to one of the U.N.'s most persistent and best-informed critics over the sex-abuse issue, nearly 100 new allegations of Central African Republic sexual wrongdoing --one an alleged rape that took place last Monday -- have been aired before U.N. investigators in the past two weeks.
Yesterday, the U.N. announced only that an "integrated team" of investigators was on the ground to probe unspecified allegations of sexual wrongdoing by U.N. and non-U.N. peacekeepers alike in the beleaguered country, often known by the acronym CAR, where a new President, Faustin-Archange Touadéra, is being inaugurated today.
(U.S. Ambassador to the U.N. Samantha Power was in CAR for the inauguration, and today among other things planned to visit a U.N. peacekeeping field office, as well as "some of the families impacted by allegations of sexual exploitation and abuse by UN peacekeepers.)
"The exact number and nature of these extremely troubling allegations are still being determined," the press release declared, noting they extended from 2013 to 2015.
At least two peacekeeping units from Burundi and Gabon, part of the 11,500-member U.N. force known as MINUSCA, have been confined to their barracks during the probe, the U.N. declared -- "except for essential tasks" apparently related to CAR's budding political process.
Other non-U.N. peacekeepers from France -- operating under a U.N. Security Council mandate -- "are also being investigated," according to the statement. It added that "local armed groups" -- warring factions -- were implicated in some of the actions.
The U.N. press statement followed a series of earlier, lower-key declarations both by MINUSCA itself and then by Secretary General Ban Ki-moon's spokesman, Stephane Dujarric, announcing that new allegations of sexual abuse had been uncovered and were being investigated.
Emphasizing that "these allegations reportedly refer to incidents that occurred in 2014 and 2015," Dujarric declared on Easter Monday that MINUSCA's "primary concern was to ensure that the victims have been assisted and all reports immediately investigated to ensure that any perpetrator is appropriately sanctioned."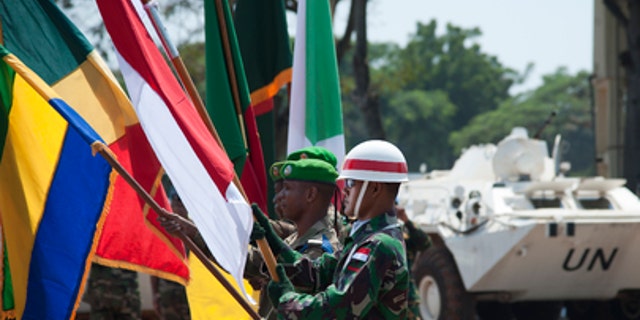 "We expect more information from the mission in the next days," he added.
Instead, the next information blast came from a gadfly non-government organization that has repeatedly exposed U.N. internal documentation on the long-running sexual abuse scandal over the past year.
The advocacy group known as AIDS-Free World was far more graphic about the shocking scope and number of the allegations, and the amount of time the U.N. has taken looking into them.
On a website dubbed the Code Blue campaign, AIDS-Free World yesterday reported that as far back as two weeks ago the U.N. child relief agency UNICEF had interviewed 98 girls in one CAR province alone who said they were sexually abused by international peacekeepers.
The Code Blue site did not reveal the confidential sources for its information, but provided details of some of the sordid incidents, including alleged forced sex with a dog.
The website also said the roster of those allegations dated as far back as 2013 and extended through 2015, but named only peacekeepers from Gabon and France as being involved.
Code Blue then brought the allegations much closer to home, at least so far as the U.N. is concerned.
It declared, once again without naming its confidential sources, that in another part of the country, the mother of a 16-year-old girl had told local police that on March 28 -- last Monday -- her daughter had been raped in a hotel room by a U.N. peacekeeper from Congo. According to the website, the soldier had subsequently declared in front of his force commander that he had had sex with the girl for money.
The U.N.'s own announcement of the investigations made no mention of the March 28 incident.
Code Blue also outlined what it said were the outcomes of a meeting on Tuesday, March 29, of top-level U.N. officials to discuss how to deal with the latest eruption of crisis. That included what Code Blue called "unified 'messaging'" to the CAR government, troop-contributing countries, Secretary General Ban and the media, as well as the possible sending of "high-level envoys" to countries whose troops were confirmed to be part of the scandal.
Queried by Fox News about the meeting details, press spokesman Dujarric confirmed that such a gathering had taken place, but emphasized that "the way we are reacting shows the level of change within the U.N. in how to react to these sorts of allegations."
Dujarric also pointed to an article that appeared in Newsweek on March 30 by the U.N.'s special envoy to CAR, Parfait Onanga-Anyanga, relating news of the alleged rape of a 14-year-old girl by peacekeepers, along with a reference to the earlier incidents, and expressing his determination "to put an end to it in my mission."
Ananga-Anyanga related his extensive travels across CAR to spread an anti-abuse message, declaring that "I have made the fight against sexual exploitation and abuse one of the Mission's top priorities."
An unspecified "task force" had been established to deal with the issue he said, and patrols mounted to monitor off-duty peacekeeping personnel. Now, he said, "is the time for the rights of the victim to come first."
"They're a ragtag collection of untrained, unqualified staff with zero authority to investigate crimes . . ."
Maybe so. But the alarming apparent scope of the allegations as Code Blue revealed them hit hard at claims the U.N. has been making for months that it was moving as fast and vigorously as possible to put a clamp on peacekeeper sexual abuse -- not just in CAR but at 15 other U.N. peacekeeping missions are around the world -- and also bringing ugly facts as fast as possible into the daylight.
Indeed, the U.N.'s "integrated team" of investigators was derided by Paula Donovan, co-director of AIDS-Free World, as "a reckless, panicked response" to the latest abuse crisis.
"They're a ragtag collection of untrained, unqualified staff with zero authority to investigate crimes, no idea how to preserve evidence for a trial, and no expertise to question any victims of rape, never mind women and children who've been violently sexually abused by the integrated team's fellow U.N. workers," she told Fox News in response to the latest U.N. press release.
An "incompetent and disingenuous" U.N. bureaucracy is creating "dead-ends to justice and putting civilians in danger," she added.
Code Blue's proposed solution to the sex abuse crisis is to take such investigations out of the U.N.'s hands, and given them to an independent committee of experts to handle, a possibility that the U.N. argues is legally and practically impossible.
The fact is that U.N. reactions to the continuing cascade of sexual abuse allegations have contrasted recently with official expressions of criticism and even despair at the U.N.'s handling of the problem.
The criticism was summed up most starkly in the findings of an independent panel that last December castigated specific U.N. senior officials for their inaction and coverup of sexual abuse allegations in an earlier chapter of the scandal involving the non-U.N. troops in CAR.
That document somewhat prophetically warned that bureaucratic indifference might well have prevented the discovery of "the possibility of a broader pattern of sexual violence by some international peacekeeping troops."
U.N. Secretary General Ban deftly sidestepped those conclusions in February, when he announced the creation of a new special coordinator, Jane Holl Lute, to handle the battle against sexual abuse. Her job, he said, was to "better align our peacekeeping and human rights systems and to strengthen United Nations response to sexual exploitation and abuse."
Ban followed that at the beginning of this month, when he made another and bigger public effort at U.N. "transparency" and rigor, in the form of his annual report on the battle against sexual exploitation and abuse, known in UN-speak as SEA.
The document revealed there were 22 new sex allegations in CAR during 2015, out of 69 worldwide against peacekeeping personnel -- the largest single-mission total.
Ban's report was stippled with planned measures, ranging from better training to better vetting of peacekeepers to faster investigation procedures and better channels for victims to use in bringing allegations -- most of which were still entangled in the U.N.'s molasses-dense combination of bureaucracy and need for member state assent.
Ban had also called for a U.N. trust fund to be set up to aid victims of sexual abuse -- but the U.N. itself has no money to put in it, a fact that came up again in spokesman Dujarric's press briefings.
Ban's report came out just a month after the resignation of Anthony Banbury, the U.N.'s Assistant Secretary General for Field Support, who had been a key U.N. troubleshooter on the peacekeeping rape issue, as well as other U.N. crises. (Banbury's replacement, Lisa Buttenheim, was named to the job yesterday.)
Two weeks ago, Banbury revealed his own opposition to the inclusion of soldiers from the Democratic Republic of Congo in the CAR peacekeeping mission. About 120 of them were sent home just before he resigned; Ban's report revealed that the DRC troops were U.N. peacekeeping's top offender in terms of number of sex-abuse allegations against them.
In an impassioned New York Times op-ed piece, Banbury declared that the main reason he left the U.N. was "colossal mismanagement," coupled with "minimal accountability" even as he praised Ban as a "man of great integrity" and hailed "smart, brave and selfless" U.N. staffers.
He also noted that as sexual abuse cases kept rising in CAR -- coupled with the brazen beating of civilians by the Democratic Republic of Congo forces -- there was "hardly a murmur, and certainly no outrage, from the responsible officials in New York."
George Russell is Editor-at-Large of Fox News. He is reachable on Twitter at @GeorgeRussell and on Facebook at Facebook.com/George.Russell