UN refugee chief: Hungary severely limits refugee access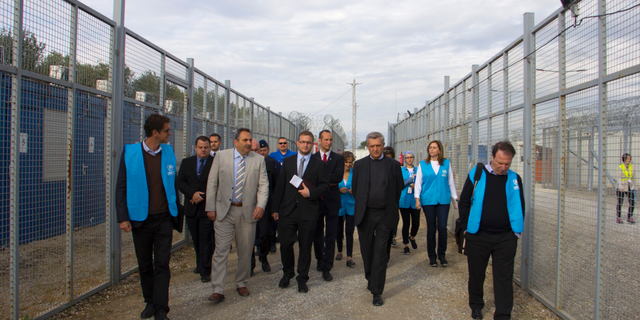 BUDAPEST, Hungary – Hungary is displaying "a very clear intention" to curtail the access refugees have to protection in the country, the head of the United Nations' refugee agency said Tuesday while visiting a transit zone for asylum-seekers at the Hungary-Serbia border.
U.N. High Commissioner for Refugees Filippo Grandi said he was particularly concerned that Hungary is detaining asylum-seekers in closed centers at the border while they await decisions on their applications and appeals.
Grandi also was critical of the low number of refugees allowed to file asylum claims — five a day at each of two transit zones — as well as of the "very low rate" of approvals. He further cited a lack of investment in encouraging the few refugees allowed to remain to integrate.
"My fundamental impression is that there is a very clear intention here to limit severely the number of people that are allowed to come to Hungary to seek protection," Grandi said after touring the zone for asylum-seekers at the Roszke border crossing.
He said conditions at the Roszke transit zone were "acceptable," but added that the detention aspect of Hungary's approach was worrying, especially since some of those being held are minors ages 14-17.
Hungary erected fences on its southern borders in 2015 to stem the flow of migrants and refugees. Prime Minister Viktor Orban's has repeatedly claimed a large influx of mostly Muslim migrants endangers European culture.
Grandi said he understood "the complicated position" Hungary faces geographically and politically "as a country in the middle ... between the Balkans and Austria and Germany and countries that attract many asylum-seekers."
However, he said "robust" measures like the razor wire protecting the border fences "convey an impression of rejection which I believe should be changed."
"Refugee protection and state security are not incompatible," Grandi said.
The U.N. commissioner also met in Budapest with Hungarian officials, including Foreign Minister Peter Szijjarto and Interior Minister Sandor Pinter.